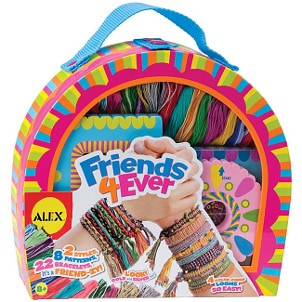 With creativity, some supplies, and a good set of directions, any child can transform a pile of materials in to a beautiful bracelet, a clay pot, or another artistic creation. Each child has her own set of interests, so how do you know which kids' craft kit will best suit her? Here's how to find the right kit for your child, based on her natural curiosity and interests.
Craft Kits Kids Love:

Fashion and clothing: If your child loves hats, scarves, and shoes, you can help her feel like a fashion superstar with a clothing kit. Tie-dye kits make shirts more colorful, knitting and crocheting kits let her create her own scarves and hats, and fabric paint kits let her decorate clothes she already has.

Jewelry: Instead of buying all of her jewelry, why not encourage your child to make it? She can make friendship bracelets or her own beads, necklaces, and rings to wear or give to friends. If the child you're shopping for already makes a lot of jewelry, a beading kit can introduce new skills and challenges to an established hobby.

Drawing and painting: If your child loves watercolors, oils, and other paints, then choose a kit that comes with paintable objects. Kits can include everything from paint-by-number templates to T-shirts or dishes. If your child likes drawing and coloring, she'll have fun with a book on illustrating cartoons. If producing useable pieces is more her thing, a kit that lets her embellish place mats for use at dinnertime is a good choice.

Model building: These kits are designed for kids who love the building process. Building kits can produce anything from a wooden dinosaur skeleton to a model car; advanced kits combine skills and might require painting or gluing as part of the process. Encourage your child to create a mobile for a younger sibling or a model car to take to a friend's house.

Pottery and sculpture: Kids who love hands-on crafts will love a pottery wheel set or a pipe-cleaner kit. These kits sometimes involve more complicated setup; make sure they're used with supervision to prevent a mess. Introduce these kits to test out new interests without a big commitment and help your child discover a new hobby.

Educational: Help your kids learn something new while doing something fun. Use a model airplane kit as an excuse to talk about Bernoulli's principle or build a scale model of the solar system and talk about planets. Crystal growing kits are fun for kids who are interested in science and nature.
What Do You Want to Do Next?

Shop Activity Kits
Shop Bead & Jewelry Kits
See All Kids' Crafts
See All Guides
Read More Craft Guides
Get More Craft Ideas