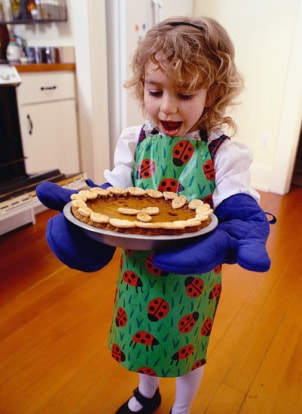 You may not think children and cooking are two things that go together, but getting children involved with cooking offers great benefits. They'll enjoy cooking together with you. And you can encourage kids to eat a variety of foods; when children take part in making meals, they are much more likely to eat them. Having cooking tools that they can use will make this time together in the kitchen safe and fun.
Kid-Proof Kitchen Tools:

Safety gloves: Investing in a pair of safety cutting-gloves can provide you with piece of mind and allow your child to safely help with many of the meal preparation tasks. The use of sharp knives is not advisable for young children, but these tough Kevlar gloves keep little fingers safe while using gadgets like cheese graters or vegetable peelers.

Plastic cutting tools: Kids naturally love to cut things, so how excited would they be to stand alongside you at the kitchen counter dicing and chopping? Safety knives are plastic serrated knives that can cut anything from chicken to potatoes. For smaller jobs, a pair of ordinary safety scissors can be used to dice green onions and peppers. Choppers are self-enclosed gadgets that the children will love to pound on to produce diced onions, mushrooms, and more.

Pizza cutter: Plastic pizza cutters are one of the most versatile gadgets a kitchen can have. They not only cut perfect pizza slices, but they can also slice and dice soft vegetables as well as cube bread, cut homemade pasta, and more. You can easily disassemble these gadgets for safe and simple cleanup.

Pasta machine: Do you think homemade pasta is too difficult and time-consuming to prepare? Well, think again. A manual pasta machine is a must-have gadget to turn meal preparation into a fun family event. It takes few ingredients, promotes teamwork, and creates a tasty dinner that even finicky kids will love.

Measuring utensils: Even at a very young age, kids love to help measure, mix, and pour. Provide nested measuring cups to teach kids to measure dry ingredients accurately. If you are busy at the stove, the kids can be happily entertained with a measuring cup and a bowl of flour. And don't worry too much about a mess; the look of accomplishment on your child's face will far outweigh the flour on the floor. Measuring spoons are also a must-have gadget, and kids will enjoy measuring spices, flavorings, and more.
What Do You Want to Do Next?

Shop for Specialty Tools
Shop for Kitchen Prep Tools
See All Cooking Gadgets
See All Guides
Read More Kitchen & Dining Guides
Learn More about Cooking Essentials