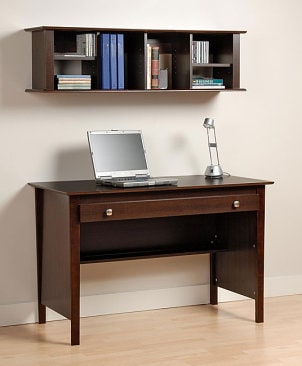 When it's time to update the office's computer desks you may be tempted to just scroll through several online pages and pick whichever desk pops up first. What you may not know is that there are several types of computer desks available. Most jobs require employees to sit at a computer desk all day, so it only makes sense to do some research and pick the best office furniture for your office. There are many computer desks and other office furniture pieces to choose from. Keep reading for information on the best computer desks for the office.
Home Office Computer Desks:

Corner desks. These small computer desks save space and are especially handy in small offices or apartments since they don't take up very much room. Corner computer desks are perfect for using a small desktop or laptop computer. A corner desk can include a hide-away drawer for the keyboard, another small drawer for essentials and one or two lower shelves for light storage. You can store a few necessities on the desk's surface as well. Many corner computer desks come with separate hutches with shelves and drawers to place on the surface of the desk, leaving room for your computer while maximizing the desk's storage.

Writing desks. These office desks line up flush with the wall and come in many different styles. Most come with a hide-away drawer for a keyboard, which saves you room for other important items. Without a keyboard sitting on top and taking up the majority of the desk's surface, you have more work room for essential papers and files.

L-shaped desk. Some necessary items you need to fit on your office desk are your printer, phone, file storage and speakers. If you try to fit all of these items on a small computer desk, you'll find your work area can get quite cramped. When you invest in an L-shaped computer desk, you won't have to sacrifice any of your office equipment. An L-shaped computer desk fits snugly against the walls and corners of your office, efficiently using the space out from the wall and giving you more workspace. In addition, you can easily fit your computer's CPU underneath the desk while displaying your monitor on top. You'll always have plenty of workspace with this type of desk.

Ergonomic desk. A big selling point for an ergonomic computer desk is that its unique positioning helps to reduce stress on your joints. These office desks are often lightweight and mobile, making them easy to move whether you're redecorating your office or moving to a new building.

Buy Computer Desks
Back to Guides Directory