by L. Sefcik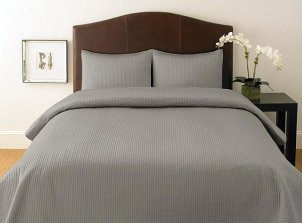 If you're looking for new bedding but want something other than a comforter, you have plenty of comforter alternatives to choose from. This article should help inform you of some of the best comforter alternatives.
Comforter Alternatives:

A downy solution: If you want the luxury of a down comforter but not the bulk, a down blanket is a streamlined solution. Down blankets offer the same warmth but are sewn-through (rather than baffled), so no effort is required on your part to ensure adequate distribution of down that might migrate from one part of the blanket to another. Like down comforters, down blankets do require dry cleaning. Otherwise, this comforter alternative requires no special care, and it's a huge space-saver in your linen closet.

Electric warmth: Before comforters became en vogue, it was customary to cuddle up under an electric blanket, the "old guard" of cold-weather bedding. Electric blankets are perhaps the best comforter alternative for those who live in areas of the country with many bitter winter nights. Nothing's nicer than climbing into a bed that's already toasty warm. Electric blankets are machine washable and have single or dual controls that offer many levels of heat.

Think fleece: The same ultra-soft fabric used in robes and throws is also available in a blanket size. Made of 100 percent polyester, fleece blankets are machine washable, don't shrink in the wash and are extremely durable. They're one of the easiest comforter alternatives to care for. Want to get even more comfortable? Micro-plush fleece blankets are even cushier and have an attractive, velvety texture.

Cotton comfort: If you live in a climate where all you need is a little bit of layering to keep out the occasional chill, cotton blankets are probably your best comforter alternative. Cotton is a breathable fabric, providing just enough insulation to give you added warmth. Attractive and versatile, cotton blankets are sold in a variety of colors, usually in basketweave and herringbone patterns. When it comes to laundering, it couldn't be easier to clean cotton blankets; just wash and tumble dry.

Buy Bedding
Back to Guides Directory