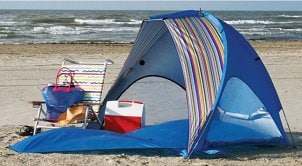 Especially useful for long camping trips, a Coleman cooler will help keep meals fresh for days. The most obvious use for a Coleman cooler is to keep drinks cool, but they can also be used as your camping trip's portable refrigerator. Whether you just want something to keep your drinks cold or a way to keep your food fresh, here are some of the best Coleman coolers for the job.
Best Coleman Coolers for Camping:

Plastic Coleman coolers: For the most storage, a large plastic ice chest is way to go. A plastic cooler will allow space to store all your drinks plus other items, like jugs of milk, meat and fruit. However, plastic Coleman coolers also come in smaller sizes for whatever function you have in mind. They are easily stackable in the back of a jeep or truck, and a larger plastic Coleman cooler can even double as a bench or card table. Larger models often come as a wheeled cooler.

Coleman jugs: When all you want is a handy drinking container for water or other beverages, nothing can replace a Coleman jug. Some have a drinking spout at the top, while others are designed to divvy out liquid to a large gathering with a faucet near the bottom. These Coleman coolers will keep your beverage cool right up to the moment you drink it.

Soft Coleman coolers: Soft Coleman coolers come in several sizes and secure tightly at the top with a zipper. Generally, this type of Coleman cooler lists the number of cans that are expected to fit inside. As such, soft coolers are ideal for storing drinks. Of course, depending on the size, soft Coleman coolers can also be used to cool other items. Also, if your car is getting a bit full with camping gear, a soft Coleman ice cooler might be the way to go. Because of their soft fabric and less rigid corners, soft Coleman coolers are easy to fit into tight places.

Coleman cooler sets: If you can't quite decide exactly what size of Coleman cooler you need or you are suffering from a cooler shortage, pick up a Coleman cooler set. Coleman cooler sets come with a few coolers, usually including one large cooler, one smaller drink cooler and a jug. It might also be cheaper to pick up each piece in a set at once than buying them one by one.

Buy Coleman Coolers
Back to Guides Directory