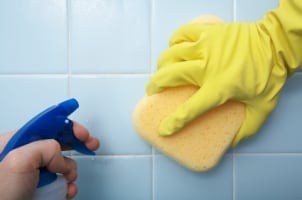 Make your home spotless with the right cleaning supplies for every room. Whether you need window cleaning supplies to polish mirrors and windows or natural cleaning products for your bathroom and kitchen, a few cleaning tips will come in handy as you select the right products to use. Read on for a list of the best cleaning supplies for every home.
Buying Cleaning Supplies:

Buy products to keep the kitchen clean. Since you'll be preparing and eating food in the kitchen, you'll want effective cleaning products to ensure that it stays germ-free. Look for antibacterial wipes for wiping down counters and tables, and make sure you have quality sponges and multipurpose home cleaning supplies for scrubbing the kitchen sink. Don't forget about the floor; you'll want a mop and disinfectant cleaning products for tile or linoleum floors and carpet cleaning supplies for stains on rugs and carpeting.

Find cleaners for scrubbing the bathrooms. Toilets and bathtubs can harbor a lot of germs, so be sure you have the right cleaners to keep these areas spotless. A disinfecting toilet bowl cleaner can easily remove grime from your toilet, and you'll want a scratch-free abrasive cleanser for thick soap scum and stains in your bathtub and sink. Wipe mirrors and glassy surfaces, such as sink and bathtub handles, with window cleaning supplies, and look for home cleaning supplies with fresh scents to eliminate odors when you mop the floor.

Look for supplies to clean your carpets. Keep dust and dirt at bay with the right carpet cleaning supplies. Vacuum your carpet frequently to remove any surface stains and blot spills immediately so that they aren't absorbed. For deep stains, look for commercial cleaning supplies that work using mainly steam and hot water, not thick soaps, as these can ruin your carpet. Make sure to read the directions carefully for cleaning tips before using a large amount of commercial cleaning supplies on your rugs.

Purchase cleaning supplies to polish your wood. Make your kitchen table look glossy again with cleaning equipment designed for use on wood. Create your own natural cleaning products with a bit of vinegar, water and oil or buy oil soap and polish to gently clean beds, dressers, bookshelves and more. Cleaners that contain lemon juice will leave a fresh, clean scent on your wood, and microfiber mops and similar cleaning equipment will allow you to easily clean hardwood floors.

Buy Cleaning Supplies
Back to Guides Directory