by Stevie D.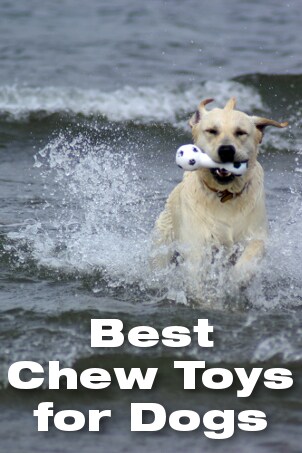 SHOP PET TOYS NOW >>
Chew toys for dogs fall into several categories, and the best kinds of pet toys for your dog depend in part on your dog's habits. You don't want to choose pet chew toys for a dog that swallows rawhides instead of chewing on them or a very hard chew toy for an older dog with missing teeth. Some dog chew toys are safe if ingested piece by piece, while other dog toys are meant to be gnawed on for a long time. Here is how to pick the best dog chew toys for your pet.
Buying Dog Chew Toys:

Buy synthetic chew toys for puppies: Chew toys made out of vinyl, rubber compound, or nylon blends come in a plethora of designs. Many pet toys are bone-shaped and flavored to encourage a teething puppy to chew the toy instead of your furniture. Others are nubby and textured to provide some teeth-cleaning benefit while the dog chews. Some may be too hard to interest your dog; it depends on his chewing preferences. As with any toys for dogs, be careful about giving a puppy a chew toy that can be chewed up into small pieces and swallowed.

Look for edible chew toys: Rawhides, bully sticks, cellulose bones, and other edible chew toys and dog treats can be both chewed on and eaten. Some of these can be choking or obstruction hazards for aggressive chewers that tend to eat their toys instead of gradually wearing them down by chewing. The best edible chew toys for aggressive chewers are digestible, such as cellulose bones or bully sticks. Rawhide dog chews are not the best toys for dogs that do this because, as most vets will tell you, they can cause intestinal blockages or pose a choking hazard. Large rawhide dog chews are not very digestible. Generally, dogs should not be left unattended with potentially dangerous pet chew toys.

Find bones and hooves your dog will love: Many dogs love sterilized bones and cow hooves because they are the "real thing." Some bones and hooves are processed with flavoring, or the hollow cavities are stuffed with rawhide chips and other tasty fillings that can provide hours of licking and chewing. Two cautions about bones and cow hooves: They may not be the best choice of dog chews for aggressive chewers because they are very hard and can chip or break teeth. Also, sometimes the fillings are dyed and can stain furniture, bedding, or rugs, so be careful where you allow these.

Purchase interactive chew toys: Interactive dog toys are wonderful for dogs that are left alone while their owners work. These dog toys are designed to be filled with treats or frozen yogurt and peanut butter, and they provide hours of stimulation and puzzlement while the dog chews, rolls, and plays with the toy to release the goodies. Some interactive dog toys are also ideal for playing tug and fetch (some can float for water retrieving) and are made even more attractive with squeakers and flapping tails to elicit excitement in a prey-driven dog that likes to chase and "kill" her dog treats.

Shop Chew Toys
Shop Squeaky Toys
Shop All Pet Supplies
See All Guides
Read More Pet Guides
Learn More about Pet Gear & Supplies