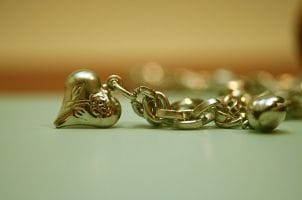 Use jewelry to show how well you know a person. Giving charms on special occasions will impress friends and romantic partners. Charms are highly collectible and available in a seemingly endless array of styles. Sterling silver charms are shiny and affordable, while solid gold charms are valuable and vibrant. Charm jewelry can be worn with almost everything, from jeans to cocktail dresses. When you're shopping for jewelry gifts, consider these popular charm styles.
Stylish Charm Gifts:

Title and initial charms: Title and initial jewelry instantly defines a person in a positive way. Everyone loves seeing their name, initials or title on a bracelet, necklace or handbag. Title gift charms include pendants that spell out "mom," "best friend" and "teacher". If you can't find the recipient's name on a charm, then choose initial charms and spell out her name on a deluxe gold charm bracelet. This jewelry gift is sure to delight.

Hobby charms: Everyone has a hobby that helps define their life by defining their free time. Whether you know a gardener, a dancer, a pet lover, a writer, a thespian, a flautist or a chef, hobby charms are always welcome gifts. When shopping for hobby charms, consider the leisure activities that the two of you have shared together. These charms can be very romantic.

Travel charms: Many charms are designed to depict landmarks and famous cities. These charms make excellent gifts for anyone who loves to travel. Charms that depict the Eiffel Tower, the Coliseum or tropical plants will remind the recipient of the dream vacation you took together or inspire her to take a fantastic trip.

Don't forget the bracelet: Charms make a great jewelry gift, but you can make the gift even more meaningful by giving several charms with a lovely gold or silver charm bracelet. Charm bracelets are available in several different styles. The classic charm bracelet has large links; the charms are clipped onto the links. Some modern charm bracelets are designed like beaded jewelry. You start with a simple rope chain bracelet and slide beads, charms and spacers onto the chain. Beaded charm bracelets can be highly personalized with colorful beads; link charm bracelets are considered more youthful.

Buy Charms
Back to Guides Directory