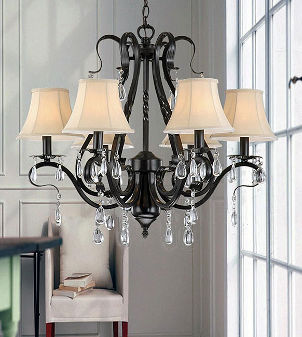 Whether you like antique or contemporary styles, chandeliers can dress up many different rooms. It's easy to update your bedroom with a striking pendant chandelier, or add a crystal chandelier to the dining room for extra sparkle. You may have a few questions about choosing chandelier lighting that works with your style, however. Read on for tips on finding the best chandeliers for your home.
Buying Chandeliers:

Start with popular rooms in your home. Chandelier lighting is typically found in a formal dining room or parlor, so begin by selecting lighting fixtures that would work in these areas. A candle chandelier made of wrought iron can give your dining room a rustic, comfortable feel, while a crystal chandelier can add either a funky or elegant touch to your living room, depending on the furniture.

Consider the sizes of your rooms. While a black chandelier may look edgy in your teen's bedroom, it may not work well if the room is narrow or has low ceilings. If you're still set on this style, try installing a pendant chandelier instead, which features a single light fixture and shade extended from the ceiling. Make sure you also buy modern chandeliers that work in rooms with high ceilings. While you'd never want to bump your head on a chandelier by hanging it too low, you don't want to hang a chandelier too high or it will look miniature in a large room.

Think about style. If your home has a contemporary style, a candle chandelier is probably not the best option for your living room or dining room. Look for modern chandeliers that fit your decor better, such as fixtures with geometric patterns or simple rectangular shapes. A black chandelier can be both modern and vintage, depending on the light fixtures and the surrounding accent pieces. A more eclectic decorating style that mixes vintage and modern pieces can be complemented by a funky bronze chandelier or a brushed nickel chandelier with crystal accents.

Choose a classic fixture or one you can change up. Since chandeliers are typically heavy and difficult to remove once they're wired in, you'll want to pick a style you'll love for years. A brass chandelier with a neutral shade will work well in many rooms in your home, and an antiqued bronze chandelier will complement rustic decor. If you want to switch up your brass chandelier occasionally, buy a style that includes a few lamps with interchangeable mini shades. A brushed nickel chandelier with candle accents can also be updated easily.

Buy Chandeliers and Pendants
Back to Guides Directory