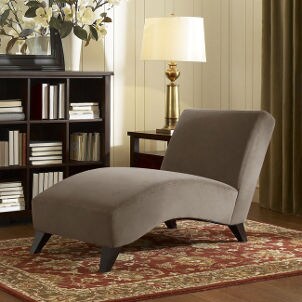 Add an unexpected touch of elegance to any room when you purchase a chaise lounge for your home. Whether you want a double chaise lounge for relaxing in front of the TV or a leather chaise lounge to dress up your entryway, the following suggestions will help you find the perfect chaise lounge chairs for your space. Read on to find the best chaise lounge for your home.
Chaise Lounge Styles:

Buy a double chaise lounge for versatility and extra room. If you want a comfortable place to kick back but want something a bit deeper than a couch, a double chaise lounge may be just what you're looking for. Relaxing chaise lounges can usually hold two people comfortably and come in many fabrics, including microfiber, leather, twill, suede and cotton. Although most chaise lounge chairs are armless and feature a reclining back and angled seat, you can also buy a double chaise lounge with an upright back and arms for a more contemporary look. Change things up by purchasing chaise lounge sofas, which feature a double chaise lounge at one end. Chaise lounge sofas can be a great option if you're unsure where to place an individual lounge chair in your home.

Pick a leather chaise lounge for classic style. It's easy to give your living room a polished look when you buy a leather chaise lounge. Both sleek and tufted styles look sophisticated in any room, and you can achieve a great vintage vibe by pairing this modern chaise lounge with a distressed side table and antique lamp. For a softer look, throw a few textured pillows onto your chaise lounge or toss a light woven blanket over the back of the chair. These cozy details will make your modern chaise lounge seem less structured and more welcoming when guests arrive.

Choose wicker chaise lounges for durability and vintage appeal. While wicker chaise lounges are usually found on a patio or deck, they can be equally stylish indoors. If you want the look of an antique chaise lounge for your parlor, buy a white or cream-colored chair and complement it with floral cushions. An antique chaise lounge made of wicker dresses up an indoor porch with charm. For a more contemporary look, however, you'll want to buy wicker chaise lounges in dark brown and black hues. Chaise lounges with squared edges instead of curves will also give you a more modern ambience.

Buy Chaise Lounges
Back to Guides Directory