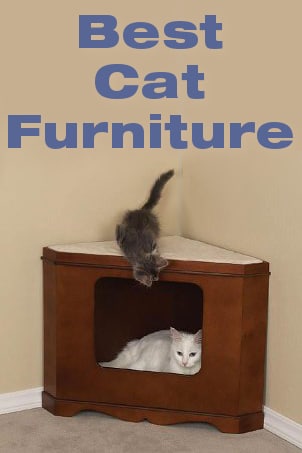 SHOP CAT FURNITURE NOW >>
Show your kitty how much you care with cat furniture that is just for her. Kitties need places to lounge and get exercise to be comfortable and happy in your home. To determine which pieces are best for your cat, take note of where she likes to be in your home and how she prefers to play.
Best Furniture for Your Cat:

A place for sleeping: Although cats are notorious for sleeping all around the houses they inhabit, having a few dedicated places for your cat to sleep is a good idea. Cat beds give your cat a familiar, personal place to return to, and you can keep some of the cat hair contained to a more limited area. Most cats like to curl up when they sleep, so round cat beds are best. Be sure to get a cat bed that is the right size for your cat, large enough that he fits in it, but not so large that it isn't cozy. Find beds that will fit on the spaces your cat likes to nap, like on the corner of a desk or in a sunny window seat.

A place to play and perch: Cats are natural climbers, so it's no surprise that cat trees are one of the most popular types of cat furniture. Cat towers give your kitty a place to play, climb, roost, and relax. Most cat condos are upholstered in a soft material, such as carpet, which provides cats with extra coziness, a place to scratch, and a texture that allows them to more easily climb the structure. Cat trees often include various things for your cat to interact with, like jute scratchers, tunnels, or hanging toys.

A place to hide: Many cats like to be alone at least part of the time, and cat tunnels give them a place to be by herself. You'll be surprised by how much your cat enjoys her cat tunnel as she crawls, sleeps, and hides in it. Some cat tunnels are heated, providing a special place for your pet to stay warm when the floor is cold. Other cat tunnels are attached to cat trees or scratchers, so you can get two cat toys for the price and space of one.

A place to satisfy the need to scratch: Whether or not your cat has claws, scratchers are essential. Scratching posts give your cats a place to satisfy their desire to scratch and use their claws. Without a cat scratching post, your cat may resort to using upholstered furniture or area rugs as scratching toys, and the results won't be pretty. Consider how long your cat is when you're shopping for scratchers; many cats like to stretch as they scratch, so you'll want something that accommodates your kitty. Scratchers may be covered in carpet or in jute, and some are just made of cardboard; you may need to try a few before you find the material your cat prefers. Many cat trees include a scratcher, but if you have the space, you may want to have a separate post somewhere else in your house to give her more options.

Shop Cat Trees
Shop Cat Scratchers
Shop All Cat Supplies
See All Guides
Read More Pets Guides
Learn More about Pet Gear and Supplies
Published April 29, 2010
Updated October 21, 2014