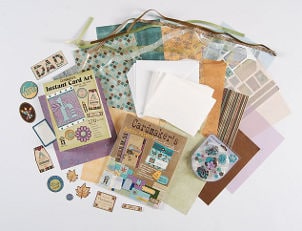 Eliminate time searching for the perfect birthday card and begin one of the most rewarding crafts, card making. With paper, stencils, stamps and other card making supplies, you can create perfect personalized cards for every occasion and show someone you care enough to give them a handmade gift. Read on to learn about the best card making supplies to make this hobby easy and fulfilling.
Craft Supplies for Making Cards:

Buy card-making paper for crafts. To get started, you need quality card making paper that you can fold and cut easily. Look for heavyweight paper and cardstock for thick cards you can decorate with buttons, fabric and other card making embellishments. For simpler cards, especially those you plan to mail, buy scrapbooking paper and card making paper already printed with patterns such as polka dots, stripes, florals and argyle.

Use a kit to get started and save time. Card making kits are perfect for both beginners and seasoned crafters because the kits include all the card making supplies you need, including scrapbooking paper, stickers, cutouts and other card making embellishments. Look for card making kits that provide ribbon, cards, envelopes and vellum to make projects even easier.

Find stickers, punches and stamps. Card making stickers are an easy way to dress up plain cardstock cards, as are punches and stamps. Look for seasonal designs to make Christmas and holiday cards or find simple shapes to add spice to birthday cards and thank-you cards. Buy card making stickers in intricate designs or whimsical shapes to add artistic touches to your cards.

Don't forget to buy envelopes. Once your cards are complete, you need envelopes to slip them into and add a classic touch. Buy vellum envelopes for formal cards or invitations, such as wedding announcements or bridal showers, and use a special pen or pre-printed labels to address them. If you plan to hand-deliver your cards, buy thick envelopes you can write the recipients' names on or dress down vellum envelopes for birthday cards with polka dot stickers or stamps. Envelopes add the finishing touches to your projects and add sophistication, whatever the occasion.

Buy Card Making Supplies
Back to Guides Directory