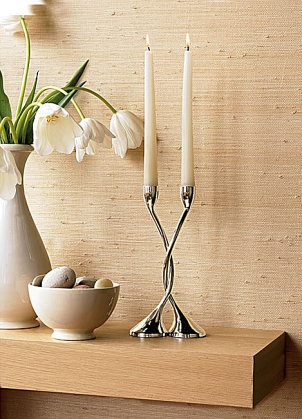 Create a peaceful, fragrant atmosphere in every room when you buy candle holders for your home. Whether you want votive candle holders to create a simple table centerpiece or rustic iron candle holders you can pull out on special occasions, you're sure to find the perfect decorative candle holders for your space with the following suggestions. Read on for tips on finding the best candle holders for your home.
Choosing Candle Holders:

Consider the candle size. If you most frequently light votives, which are miniature cylindrical candles, you'll want to buy votive candle holders that won't overwhelm the small shape of the candles. Look for glass candle holders if you want to show off multicolored votive candles, or buy a few decorative candle holders made of ceramic or steel for a sturdier look that can add weight to these delicate candles. To display thick, fragrant candles, you'll want to find pillar candle holders. Stay simple with a round crystal plate that protects your table from wax or buy tall glass candle holders with elegant curves for a sophisticated feel when you display pillar candles.

Find a style you like. Most candle holders are designed for use on a tabletop, but you can also buy wall candle holders if you would like to accent an empty wall in your dining room, bedroom or living room. Look for iron candle holders to give your room an old-world flair; these wall candle holders often feature scrollwork and delicate leaves and branches for a romantic look. If you have the room on your table or a shelf, buy tabletop tealight candle holders to create mood lighting. Look for individual tealight candle holders in lotus flower or origami star shapes for an Asian-inspired vibe; wrought-iron candelabras that feature several tealight holders make the perfect centerpiece for a fancy dinner.

Buy themed candle holders or classic shapes. It's easy to switch up your decor when you buy seasonal pillar candle holders you can display throughout the year. Floral-shaped holders work well for spring, while geometric shapes, including star-shaped wooden candle holders, are ideal for summer months. If you would rather have home accents that can work well in any season, look for metal candle holders in simple shapes, such as cylinders or squares. While stainless steel can work with a variety of decor styles, you can also buy metal candle holders made of polished brass, brushed nickel or copper. Simple wooden candle holders made of mahogany or rosewood are always a classic option.

Buy Candle Holders
Back to Guides Directory