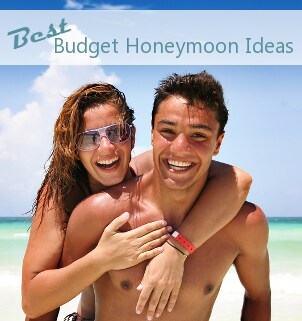 If you don't have a very big budget for your honeymoon, you still have many fun options. Whether you're planning to spend more on the wedding or you just have a small budget overall, your honeymoon can be memorable if you just plan ahead a bit. Get ready to pack your bags and take a trip that won't break the bank.
Honeymoon on a Budget:

Stay close to home. One of the easiest ways to save money on your honeymoon is to find a great spot near your home or within a few hours' drive. When people visit your home state, where do they stay and what sights do they see? Ask friends and family if they know of honeymoon deals at resorts in the area. Look for cabins in the mountains you can rent for a few nights for a cheap honeymoon. Find an inn with honeymoon suites that's within driving distance. Look into a bed-and-breakfast nearby; they may even have special rates and packages for honeymooners.

Search for cheap airfare. Honeymoon getaways to Hawaii or the Bahamas are probably going to be costly, no matter how long you look for discount flights. Why not find tickets to affordable, less exotic honeymoon trips instead? Las Vegas and Atlantic City are popular places for honeymoons, and they both offer inexpensive lodging and lots of entertainment options. If you live outside the United States, look for inexpensive flights to cities in your home country or in a neighboring country to get the best honeymoon deals.

Swap homes for a week. If the two of you have already purchased a home or apartment together, you might consider swapping homes with someone living in a part of the world you'd love to visit. Find a friend who is willing to trade their home or join a home-exchange club online to find options worldwide.

Rough it. Few vacations are less expensive than a camping trip, and if you both love being outdoors, then this is the budget honeymoon for you. Find a campground that suits your camping skill level and pack up everything you need for a relaxing trip to the great outdoors. If you already have the gear, then this will be a very cheap honeymoon option. If you have a bit more to spend, shop for a few upgrades to your campsite, like a queen-size air mattress with a pump or a hammock that's big enough for two.

Plan a trip during the off-season. You can usually find honeymoon packages at a fraction of the cost when you book getaways during the off-season. Different locales have different off-seasons, so be sure to research the places you are considering. Budget honeymoon packages will often include deals on rental cars and lodging as well as activities.
What Do You Want to Do Next?

Shop for Luggage
Shop for Travel Books
Plan Your Dream Wedding
See All Guides
Read More Wedding Guides
Learn More about Honeymoons