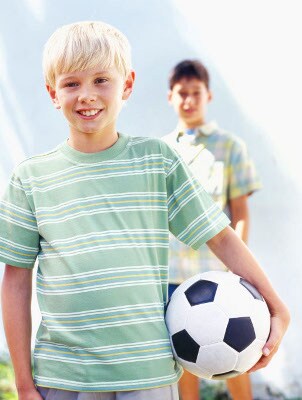 Whether your boy is a toddler or a teenager, you want him to look great in the boys' clothing you buy for him. Girls usually get all the attention in fashion, but boys want to look cool and stylish, too, and summer is the perfect time for you to show off your young man's style. Whether he's hanging out with friends on the beach or at the skate park, the following tips can help you pick out all the best boys' clothing for summer.
Boy's Summer Clothing:

Cool and casual: Boys' clothes are all about one thing: looking cool without trying. Luckily, the right boys' clothes can give him just that look. Start by shopping for a comfortable pair of jeans for your boy to wear this summer. Look for the lived-in, distressed look that boys love, but make sure to choose lightweight denim that won't be too hot in the summer. Pair the jeans with graphic tees to help your child feel comfortable and cool in his clothes.

Camping out: Boys like to play hard in the summer, and the outdoors is the perfect place to play. Prepare your little man with the right boys' clothes for the outdoors. A pair of cargo shorts and a plaid shirt are a classic look for camping or fishing with Dad, and long pants, like khakis or jeans, can protect his legs while hiking. Don't forget a hoodie to keep your son warm at night, too.

Beachwear: Whether on the beach or hanging out at the neighborhood pool, boys' beachwear is one of the most important summer looks. Your son will love a pair of board shorts to wear both in and out of the water, and a surf tee or tank top will look great for hanging out poolside.

Graphics and patterns: From graphic tees to plaid shirts, patterns are big in boys' clothing right now. You don't have to stop at shirts while outfitting your boy though. Look for a pair of bright plaid shorts to complement a polo shirt or buy a pair of printed skate shoes to match a graphic hoodie. Fill your boy's closet with patterns and prints so he can mix and match his clothes the way he likes.

Buy Boys' Clothing
Back to Guides Directory