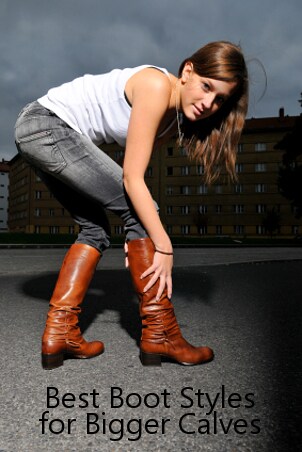 Boots are a stylish addition to any woman's wardrobe, but women with bigger calves may find that certain women's boots do not fit around their legs. Fortunately, there are many fashionable women's boots that accommodate wider calves. You just have to know which styles to shop for.
Boots for Big Calves:

Pull on a pair of stretch boots. If you're looking for boots that go to the calf or higher, a stretch boot is one of the best styles for a good fit. These boots often feature a heel, which allows them to pair with virtually anything in the wardrobe, including dresses and skirts. Stretchy boots are made of fabric that contains small amounts of elastic, which helps the boot mold itself to calves of any size. They'll often have a slimming effect as well.

Create a custom fit with lace-up boots. This is a a simple option for women who have bigger calves. Laces can be found on different parts of the boot depending on the design, but they most often appear on the back or front. For women who have wide calves but thinner ankles, lace-up boots work best to keep the ankle stable, especially if it is a high-heeled style.

Stay warm in knit boots. These stretchy winter boots are ideal because they are crafted of knit fabric for the calf, which allows all women to enjoy comfortable shoes. Sweater boots are a more casual style and are good for hitting the town or just lounging around the house, and they pair well with casual attire. They usually have a slouchy fit, which gives larger calves plenty of room.

Avoid the area with ankle boots. Available with low and high heels, ankle boots are stylish and versatile. They look cute with jeans and skirts. And since these booties they end before your calves begin, then you won't have any limitations on the pair you choose.

Look for a "V" at the top. Boots with V-shaped notches at the top of the shaft will fit bigger calves because they don't fit as snugly. Many cowboy boots have these notches, and some rain boots do as well.
What Do You Want to Do Next?

Shop Women's Boots
Shop Women's Ankle Boots
See All Women's Shoes
See All Guides
Read More Clothing & Shoe Guides
Learn More about Shoes