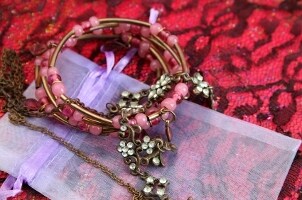 Embrace your inner free spirit with Bohemian fashions. The word "Bohemian" was once used to describe inhabitants of the former Kingdom of Bohemia, which is now part of the modern-day Czech Republic. Today, a Bohemian is anyone who represents or indulges in Bohemianism. The Bohemian Movement was first popularized in 19th century France, when many immigrants from the Kingdom of Bohemia and surrounding areas embraced an unconventional lifestyle with a heavy interest in the arts and free thinking. A similar movement is alive today, and its influence on fashion is clear. Long skirts and free-flowing tops are popular Bohemian pieces. To start an eclectic collection of Bohemian fashions in your closet, start with Bohemian bracelets. Interesting and artistic bracelets are the perfect introduction to a free-flowing wardrobe and lifestyle.
Free-spirited Bracelets:

Cloth bracelets: Cloth wrap bracelets are among the most popular in Bohemian styles. This jewelry showcases the Bohemian way of embracing the materials and colors around you. You can try this style for yourself by choosing a cuff bracelet decorated with colorful fabric or layering a few braided cloth bracelets on one wrist for eye-popping texture.

Personalized bracelets: The Bohemian Movement is largely about art, creativity, and self-expression. Even if you don't have time to make your own clothing and accessories, you can indulge in this ideal by choosing bracelets that you can customize yourself. Charm bracelets are easily personalized with a variety of gold and silver trinkets. Some beaded bracelets can also be tailored with unique, lustrous beads in bright colors.

Recycled bracelets: True Bohemians enrich their lives with the beauty found in their environment. Bracelets made from recycled materials are a fabulous option if you are looking to enhance your wardrobe while respecting nature. Recycled glass, paper, and foil make lovely beads for bangles. Recycled steel makes delightful cuffs. Leather, rocks, and shells also make fun embellishments for Bohemian jewelry.

Handmade bracelets: Support artists by choosing handmade bracelets. Handcrafted jewelry is a nice addition to an eclectic wardrobe.

Gemstone bracelets: Gemstones with an earthly look and feel add nature-inspired Bohemian style. Look for bracelets featuring turquoise, tiger's eye, carnelian, or amber.

Buy Bracelets
Back to Guides Directory