by M.S. Beltran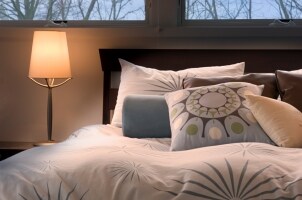 A bedroom is more than just a place to lay our heads at night. The bedroom is a private sanctuary that should make you feel comfortable and relaxed. If you're tired of sleeping in an uncomfortable bed and waking up to bland bedroom decor, try one of these bedroom makeover ideas to make your room comfortable and beautiful. With a little effort, you can replace old bedroom furniture and turn boring bedroom decor into a fabulous retreat.
Bedroom Makeover Ideas:

Update bedroom furniture. A couple of nightstands, a new mattress or a whole new bedroom set can make your bedroom feel completely new. Try a low platform bed with matching nightstands for a sleek, modern look or a sophisticated sleigh bed for a classic look. If a new bed frame or bedroom set is not in the budget, update your old bed frame with a new headboard. Create a new look with a feminine wrought-iron headboard, a rustic Adirondack headboard or a functional storage headboard for your bedroom furniture.

Rethink your bedding. The bed is, of course, the featured element of the bedroom. If your bedding is making your bed more of an eyesore than a focal point, it's time to re-imagine your sheets and bedding. Updating your bedding may seem like a small change, but it can give your entire bedroom a fresh new look. Add a few throw pillows in vibrant colors or exotic prints to give your bed a designer look.

Add window treatments. Luxurious fabrics make a room warm and inviting. New window treatments with lush fabrics can lend a softening element to your room's decor. Heavy, floor-to ceiling curtains with layers and tie backs will give your room the appearance of a lavish suite. If you have small windows, you can visually expand them by extending your window treatments beyond the actual window frames for a larger than life grandeur.

Create a sitting area. Give yourself a special little spot or nook to kick back when you want to relax in your bedroom with a good book. Find a corner for an overstuffed chair or chaise lounge. Drape an afghan over it and set up a small table beside it to hold a cup of tea or a glass of wine. Place a lamp within reach to offer good lighting for any tasks you might enjoy there.

Accessorize. Change your accessories to make your room feel refreshingly neat and organized. Get rid of the clutter and any items you don't absolutely love. Replace clutter with striking pieces, such as a potted orchid, an ornate jewelry box or decorative candelabra. Put up new wall art in stylish frames or replace a lot of small wall hangings with one large mirror. This will not only visually enlarge your room and give it a neat appearance, but it will also beautifully reflect ambient light from candles or lamps.

Buy Bedroom Furniture
Back to Guides Directory