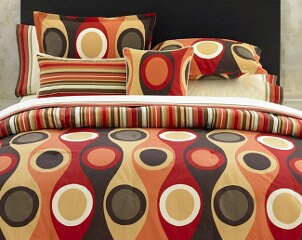 If you want to give your bedroom an instant dash of style, bed-in-a-bag sets can be extraordinarily helpful. These amazing sets help tie all of your bedding together, meaning you can have a unified, chic look in any room. Bed-in-a-bag sets are loved for their style and ease of use. They can help you turn any bedroom into a fashionable place of comfort in an instant. With a bed-in-a-bag set, it doesn't matter if you are moving away to a college dorm or simply have a room in your home that needs a bedding makeover. Whatever your goal, these terrific bedding sets will help you meet it in style. Take a look at the article below, where you will learn about the best bed-in-a-bag sets for every home.
Beds-in-a-Bag Sets:

Contemporary: While there are many bed-in-a-bag sets available, few are as popular as those in the contemporary style. Contemporary bed-in-a-bag sets are must-haves for anyone who seeks to give their bedroom a chic, modern look. These bedding sets are created in a multitude of colors and fabrics, so it's easy to find one for every contemporary design scheme. Many bed-in-a-bag sets with modern styling make use of bold, strong colors and patterns. If you are headed away to college, contemporary bedding sets can take your boring dorm room to a whole new level of cool. They are also excellent for bedrooms that are beginning to feel old and stuffy.

Traditional: Even though contemporary style is popular among bed-in-a-bag sets, it's still a breeze to find sets with traditional, elegant style as well. Traditional bedding sets make use of luxurious fabrics like super-soft cotton and silk. They often feature fabric patterns with complex designs that include natural objects, such as flowers and birds. If you want to give your bedroom a sense of sophistication, few items will do the job quite like traditional bedding sets.

Simple: Some of best-selling bed-in-a-bag sets have simple, restrained styling. From modern monochrome sets to classic comforter sets with subtle styles, simple bedding is always a great choice. If you want a bedding set that will look wonderful for years to come, think simple. Unadorned, simple bedding sets have a timeless feel, so you can count on them to look fresh and tasteful for ages.

Ornate: Bedding sets with simple styling may be popular, but that doesn't mean it's impossible to find excellent sets with more ornate designs. Ornate bed-in-a-bag sets can afford a sense of elegance in any room.

Buy Bed-in-a-Bag Sets
Back to Guides Directory