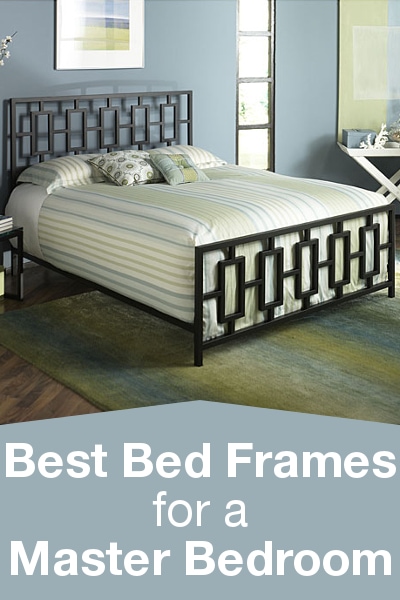 SHOP BEDS NOW >>
A great bed is the centerpiece of a beautiful master bedroom. If you're not sure which style you want, then you may be having a hard time choosing a bed frame. But the clues for your decorating style can actually be found in your wardrobe and your hobbies. These ideas will help you figure out your bedroom design personality, so you can choose the best bed to get the look you really want.
Best Beds for Master Bedrooms:

Romantic boudoir: If you like wearing pearls and watching old movies, then your bedroom should reflect your love of feminine style. It's easy to create a romantic feeling in your master bedroom with a canopy bed. Whether you add curtains to the canopy or not, the soaring lines of the four posters will add graceful drama to your room. Layer on the down bedding and accent pillows, and hang a chandelier over the bed to complete the look.

Classic sanctuary: If you like tradition, your wardrobe slants toward preppy no matter what the current trends are, and you don't feel comfortable unless there's a sense of history in a space, then you'll like having a classic sleigh bed in your master bedroom. Wooden sleigh beds are beautiful and add a bit of masculinity to the bedroom. Upholstered sleigh beds are another popular choice, and these will feel a bit more feminine. Grey bedding will give the room a peaceful feeling, while burgundy or navy blue will enhance the historical feeling.

Modern sleeping quarters: If you like keeping up with the latest designer fashion, then a platform bed frame might be the perfect fit in your master bedroom. These bed frames have clean lines, and the design means you won't need to use a bed skirt, which would look fussy in a modern master bedroom. Platform beds come in a variety of finishes, and you'll see them upholstered, too, so they're great for helping you get the type of modern that feel right to you, whether that's Scandinavian, mid-century, or minimalist.

Rustic retreat: If you're happier when you're in the great outdoors and your favorite footwear is a pair of cowboy boots, then you'll want a master bedroom with a rustic feel. A bed frame made of reclaimed wood is a beautiful and eco-friendly way to get the look. An iron bed frame is another popular option that also has a classic look to it. Depending on how you accessorize the rest of your bedroom, this look can go country or it can look like an industrial loft.

New bohemian bedroom: If you live an artistic life, your master bedroom should reflect your free spirit. One of the best ways to get this look is to shop for handmade, fairly traded bed frames. Beds from our Worldstock Fair Trade store will give your room an eclectic, world traveler style. Be sure to bring in other imported accessories, like a handmade rug, paper lanterns, and colorful wall art.

Shop Fair Trade Beds
Shop All Beds
Shop All Bedroom
See All Guides
Read More Furniture Guides
Learn More about Bedroom Furniture
Published September 2, 2010
Updated February 12, 2015