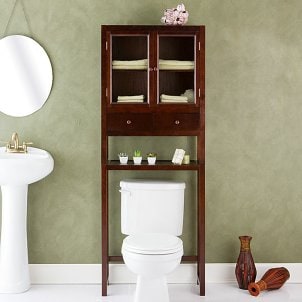 Taking the time to install bathroom cabinets in your bathroom will prove useful in the long run. If your bathroom is cluttered, now is the time to get organized with new bathroom cabinets. The bathroom is one of the most used rooms in any house. In many cases, however, it's also the least organized room. This article will help you learn about some of the best bathroom storage and organization ideas.
Storage and Organization Ideas:

Add drawers and shelves. Many older bathrooms feature open sinks without storage cabinets. Installing a few shelves or a bathroom cabinet beneath this type of sink will create instant storage space for toilet paper, soap and cleaning supplies. The space above the toilet is an often overlooked space for bathroom storage. A cabinet or towel rack can make excellent use of this area.

Color-code your towels and wash cloths. If three or more people share the bathroom, consider implementing a color-coding system to organize towels and wash cloths. Assign family members a color that corresponds to their towels and wash cloths. Younger children can choose towels with cartoon characters. Let children help out by making them responsible for keeping their stuff clean and organized.

Hang a medicine cabinet. A medicine cabinet gives you extra space in your bathroom by allowing you to store items out of sight. You can organize it by assigning each person a shelf or you can put first-aid items on the top shelf, grooming items on the next shelf and so on.

Roll your towels. Roll bath towels, hand towels and washcloths to give your bathroom counter or cabinet a clean and organized look that also saves you space. Fold bath towels in half lengthwise before rolling evenly from one end to the other. Stack them tightly on shelves and you'll use every bit of space while increasing style. Roll wash cloths in the same manner and store them side-by-side in a decorative basket on the counter for neat and convenient bathroom storage.

Gove everyone personal storage bins. Assign every family member a plastic storage bin in which to keep shampoo, conditioner, soap, moisturizer and other toiletries. The bins can be stored in a closet and taken to the bathroom when it's time to shower or shave.

Buy Bathroom Cabinets
Back to Guides Directory