Best Bathroom Items to Register For
by Maegan Crandall
Published February 28, 2010 | Updated August 14, 2015
A pile of fluffy towels, a plush rug, and a well-organized set of matching bathroom accessories will get your post-honeymoon mornings off to the right start. With a style in mind, you're ready to add bathroom items to your wedding registry. But just how many fluffy towels make up a pile? This quick guide on the best bathroom items to register for can answer your questions.
Your Bathroom Registry: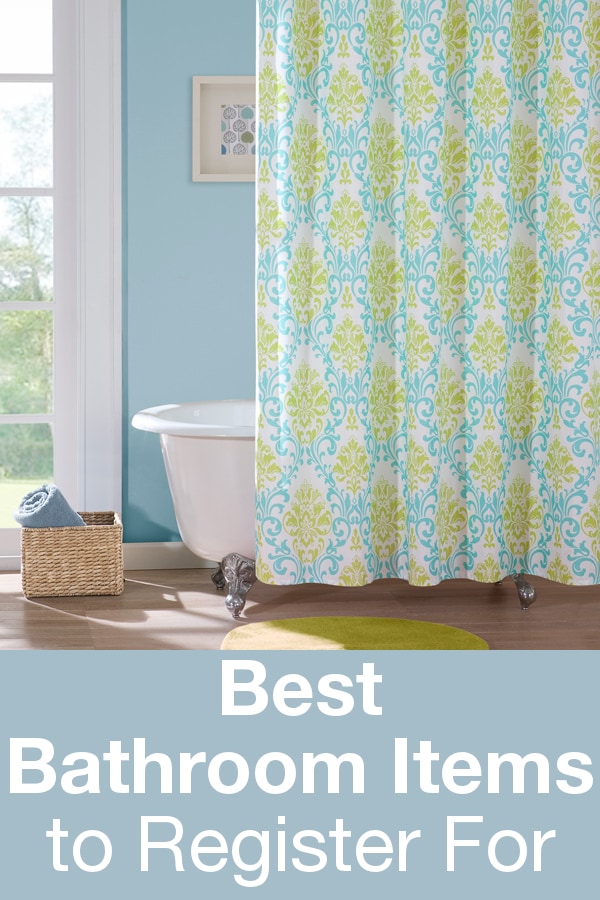 Shop Bath Linens ▸
Bath Robes

Choose matching bathrobes to round out your registry. This is a gift that's fun to get and not always expected on a registry. If you're not sure if you need robes on your registry, read our guide on the top five reasons to buy a bathrobe.

Storage

Register for some bathroom storage solutions to make moving into your new home easier. Hampers, hanging organizers, shelves, and baskets will make for a put-together oasis. Be sure to choose storage items for the guest bathroom or powder room, if needed.

Accessories and Decor

Bathroom accessories sit on the countertop or on a shelf and hold your toothbrush, cotton balls, and other bathroom necessities. These matching containers make organizing your bathroom easy. You'll find lotion pumps, tissue box covers, trash cans, and trays in matching patterns and colors to enhance the look of your bathroom. Register for a shower curtain to match the theme, as well as a shower curtain liner, rod, and set of rings.

Linens

Bathroom linens are some of the items that wedding guests most like to shop for. Towels and rugs add both style and comfort to your home.

Registering for Bath Linens:

One of the easiest ways to register for towels is to choose a set. A set typically includes two bath towels, two hand towels, and two washcloths. Most couples register for two or three sets of towels per bathroom. If the set you like only has one of each item, make sure you register for more than one set.

Register for a bath rug in a coordinating color with your towels. You can choose a plush bath rug in a coordinating color, or look for a cool, modern bamboo shower mat.

You might also want to register for some bath sheets. Bath sheets are oversized bath towels and are available in the same colors and styles as other bathroom linens.

Furniture and Luxury Items

Don't hesitate to add some bathroom furniture and luxury items to your wedding registry. Benches, vanities, and chandeliers are perfect for roomy master bathrooms. If you're tight on space, consider registering for a towel warmer, a set of aromatherapy candles, or a miniature countertop water feature.