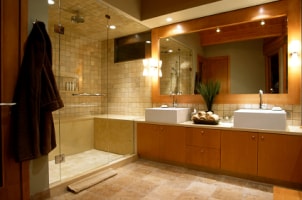 Create a stylish, relaxing bathroom with the perfect bathroom lighting for your home. Bathroom ceiling lights and other bathroom light fixtures enhance bathroom design and, at the same time, provide the practical illumination you need to see clearly. You can use bath lighting to make your bathroom seem more serene, elegant or cozy and even feel more spacious. Read on for the best bathroom lighting ideas you can use in your home.
Bathroom Lighting Ideas:

Ambient lighting: Bathroom lights that distribute light from all directions are called ambient lighting. Ambient bathroom light fixtures illuminate the entire bathroom but are mostly directed toward the floor. Natural light from windows or skylights is a source of ambient light as well. Ambient bathroom lighting creates a soft glow in the bathroom for a perfectly relaxing sanctuary and can be generated by pendant lights, bathroom ceiling lights, recessed lights or even chandeliers.

Task lighting: Bath light fixtures classified as task lighting provide visual clarity and shadow-free light to make it easier for you to put on makeup, shave and perform other grooming tasks. Bright bath lighting allows you to see clearly in your bathroom; however, it is best to install task lights, such as sconces and bath vanity lighting, on both sides of the bathroom mirror to cast even light across your face. Another good place to install bright bath light fixtures is above the shower; task lights also work well over the bathtub and toilet. If you install contemporary bath lighting, including exposed lights, use frosted bulbs to cut down on glare.

Accent lighting: Use accent bathroom lights to draw attention to particular areas or decorative objects in your bathroom. Accent lighting can be used to highlight a piece of art, unique bathroom design features or other decorative accessories. You can combine accent lights with traditional bathroom lighting to achieve beautiful effects.

Unique lighting: To make your bathroom stand out, look for small lamps, sconces and other contemporary bath lighting to set off your shower and bath. Decorative chandeliers can take the place of traditional bathroom lighting fixtures, and wall-mounted light tubes provide sleek bath vanity lighting in a small bathroom if you want to save space. Take cues from the other rooms in your home to find the best lighting ideas.

Buy Bathroom Lighting
Back to Guides Directory