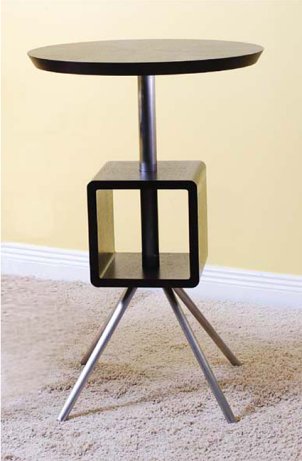 A chic bar table is a crucial piece of furniture for your bar or lounge. However, a bar table isn't just an important piece of bar furniture; it can migrate to every room in your home to create a chic environment. Next time you shop for bar and pub tables, think about the other rooms in your house.
Bar Tables for Every Room:

Bedroom: Place a short, decorative bar table next to your bed as a surface for your alarm clock or a place to lay your glasses before you go to bed. It's a great surface to keep books or other items you like to have close to your bedside. If you prefer simplicity over the complexity of a larger night stand, replace it with a short pub table. Some small bar tables even come with a chair and can easily be transformed into a sleek, simple computer desk or be used as a writing station.

Living room: Square bar tables can be placed a few feet from couches so guests can set drinks on them; you can place extra reading materials for the room on the bar tables, too. You can place one at the corner of two couches to fill the space and connect your furniture.

Family room: For a family room, get yourself a rolling pub table. A rolling bar table makes it easy to bring drinks and other items to those crowding around the television for the big game or a movie. The flexibility will allow the bar table to be wherever people choose to sit on different occasions.

Dining room: Most bar tables would work great as a spot for extra seating in a dining room. When your main dining table fills up, overflow diners can sit around your fashionable bar table. For even more flexibility, get an adjustable-height pub table. If a few kids are in the party, they'll love sitting around a bar table that can be lowered to their size.

Bathroom: A glass or thin metal bar table will look great in the corner of your bathroom. Place pictures or other decorations on top to add some personality to the room.

Buy Bar Tables
Back to Guides Directory