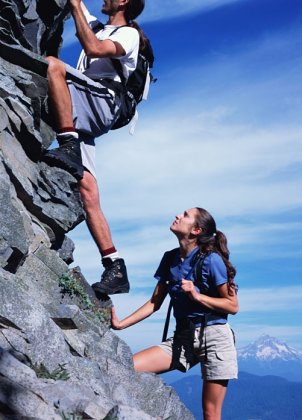 Have you ever been told to "take a hike?" Well, you no longer have to tie your gear to the end of a stick and carry it over your shoulder. Instead, you can choose the backpack that is best for the type of hike you want to take.
Hiking Backpacks:

The pleasant day hike: Fanny packs, waist packs and lumbar packs are worn at the hip and may even come with shoulder straps. A pack with a zippered pouch can carry a small water bottle, pocket knife combo, flashlight, whistle, compass, thermometer, magnifying glass or many other small item taht you would need for a short, morning hike or a sight-seeing walk. When you don't need a larger backpack, these packs give you a convenient way to carry the basic necessities.

The hot-weather day hike: Hydration packs have a bladder system designed to carry water or pulpless juice. The design requires you to bite a valve set at the end of a tube in order to open the line. This system helps save room and reduces the weight of the water as compared to bottles. They are perfect for quick day hikes when all you need are the bare essentials. Hydration packs usually have mesh pocket netting you can use to carry small snacks, such as a nutrition bar, nuts or candy, which will give you a boost of energy along the way.

The all-day adventure hike: Standard two-strap daypacks are versatile, classic and work for just about anyone. They come in a variety of different sizes, colors and patterns. They are great bags to use when you want to stay well-organized. Many have extra pockets for your gadgets. These daypacks are a good option when you're going on a long hike but are not planning to be out long enough to camp.

The serious backpacking excursion: The first designs for camping backpacks had external frames to tie extra gear on. Modern styles have converted to an internal frame design, which makes it easier to strap down pads, sleeping bags and tents with straps or pull ties. The multiple compartments and pockets keep all other items inside the pack. Some camping backpacks provide you with chest and hip straps. Adjustable straps will decrease bulky, unbalanced spots and keep the backpack in place. Some camping backpacks have a top or lid that holds easy-to-reach items and converts into a daypack, so hikers can camp overnight, use the daypack for the rest of the hike the next day and return to base camp later without carrying unnecessary gear.
Hiking Backpack Tip:

Backpacks with wide padded straps, harnesses and back pads alleviate the pressure of carrying around heavy or bulky items, especially when adjusted for a custom fit. Your back will thank you for choosing the best backpack for your hike.

Buy Backpacks
Back to Guides Directory