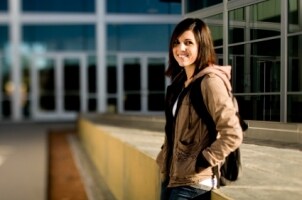 When you need to take things with you somewhere, backpacks can't be beat. Whether you use your backpack to carry textbooks to class, your wallet and other essentials everywhere you go, your laptop and business documents to work or clothes and souvenirs on the airplane, backpacks won't let you down. Backpacks come in a huge variety with options for every purpose you can use a backpack for, so choosing the right one can be difficult. Read on to discover the best backpack features available.
Backpack Features to Consider:

Wheels and handles: Rolling backpacks are some of the most popular backpacks you can get. Like uprights and other wheeled luggage, rolling backpacks have two wheels on the bottom of the bag and a telescoping handle that can be pushed back down into the frame of the backpack if you want to carry it on your shoulders. Rolling backpacks are great school backpacks because they take the load of heavy textbooks off your student's shoulders, and they're excellent options for plenty of other uses, too.

Sling straps or shoulder straps: How you want to carry your backpack affects its size and carrying capability. Sling backpacks, for example, tend to be smaller than regular backpacks, making them perfect to use as purses or man-bags. Traditional shoulder-strap backpacks come in a variety of sizes and styles and can usually hold more than simply the essentials. They also distribute weight better, making them better for use as laptop backpacks or school backpacks.

Laptop compartments or sleeves: For students and working professionals, a backpack with a special laptop compartment or sleeve is far more preferable to one without. Laptop backpacks with laptop compartments and sleeves feature extra padding to protect expensive and valuable laptop computers.

Carry-on size: If you travel a lot, backpacks that meet carry-on size restrictions are versatile bags indeed. You can pack your backpack with a change of clothes for an overnighter or pack a few mix-and-match favorites and the essential travel-size bath products for an easy carry-on bag that you generally won't have to check in at the airport.

Outside compartments: Backpacks come in a myriad of designs and carrying capabilities. If you go for the more stylish bags, you may not have as many outside compartments to hold smaller things. If you choose a sport or utility backpack, you're likely to get lots of extra compartments so you can pack everything you need for a long hike or to stay on campus all day. Extra compartments also hold small items so you can fit more things in the backpack used as carry-on luggage. Outside compartments are useful if you commute to work via public transportation because they keep the essentials, such as your transit pass and hand sanitizer, where you can easily reach them. Organizers and water bottle holders are especially popular outside compartments.

Buy Backpacks
Back to Guides Directory