The best toys for babies are ones that are right for their particular developmental stage. Infants aged 0 to 6 months are mesmerized with sounds, movement, and basic black and white visuals. They are figuring out their own bodies and practicing hand-eye coordination skills while grasping and reaching. The best toys for babies at this stage include anything they can swipe, grasp, squeeze, or shake. Babies aged 6 to 12 months will repeat activities over and over because they are learning about cause and effect. They are old enough to transfer small toys from hand-to-hand as well as move items in and out of containers. While babies at this stage will still play with the same toys they did at a younger age, they will also enjoy toys that encourage them to hold, sort, and stack. Use this guide to find the best baby toys for your little ones this Christmas.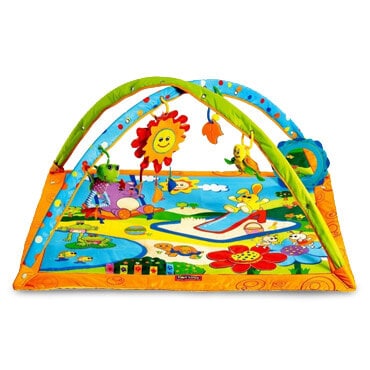 Baby Gyms
A baby play gym has a soft mat for baby to lie on and an overhead arch with dangling toys. Choose from baby gyms that have lights, music, and mirrors included. Baby gyms teach your child the basics of cause and effect by providing dangling toys that respond to their actions and encouraging your child to continually interact with them. This toy is ideal for infants and babies who are not yet crawling.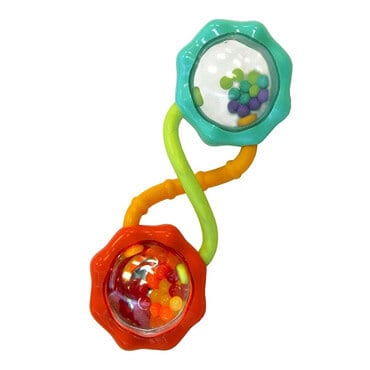 Rattles
Rattles are small toys made of plastic or wood that make noise when shaken. At just a few weeks old, your baby can hold his or her rattle tightly with a strong grasp reflex. As they grow older, your child will use the rattle to learn about cause and effect and gleefully react to the noise when he or she shakes the rattle.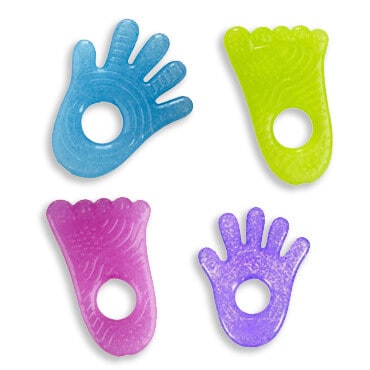 Teethers
Most babies start teething at 4 to 6 months of age. Help sooth their sore gums with a teether toy. Choose from a variety of teether toys like freezer rings, teething feeders, or fabric teethers. A variety of colors, crackles, and jingles will help keep your little one happy and comfortable.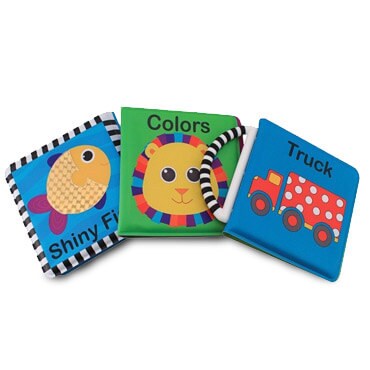 Baby Books
If you read to your children from an early age, it will help them grow a life-long love of books. Reading to your baby is a wonderful way to introduce them to the sounds and rhythms of speech, which is essential for language development. When choosing a book, consider ones that have bold and starkly contrasting colors and geometric patterns to provide visual stimulation as well.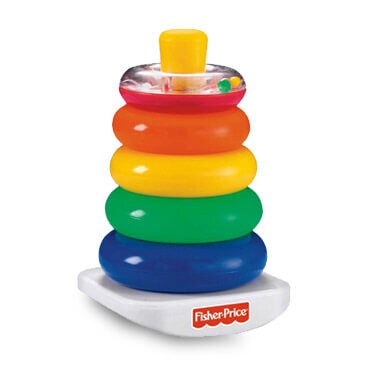 Stacking Toys
Stacking toys - like blocks, shapes, or cups - help babies with their hand-eye coordination as they reach for items and try to place them on top of each other. Watch as your child squeals with joy from the simple yet challenging task of holding onto his or her toy and mastering fine motor skills.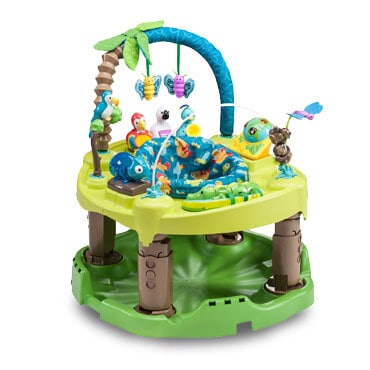 Baby Acitivity Centers
Once your little one can sit up on his or her own, start using a baby activity center to provide a safe and entertaining experience. A baby activity center allows your child to sit upright, practice standing, and play with toys around them. This not only continues fine motor skill development, but it helps your child to get the wiggles out.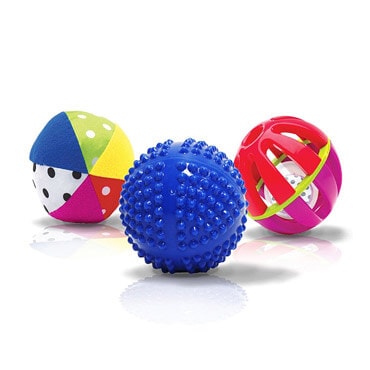 Sensory Toys
Sensory toys encourage your child to explore through touch, sight, and sound. Buy toys that have bright colors, contrasting patterns, or mirrors, which help develop visual focus. Additionally, there are textured toys to offer your infant a tactile experience and toys that make noise to stimulate his or her sense of hearing. Sensory toys will keep your little one amused for hours.