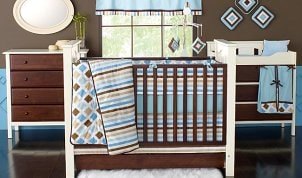 When you're expecting twins, you might expect a lot of headaches in regard to getting the baby bedding in their nursery right. Fortunately, twice the babies don't mean twice as many problems as you might think. In fact, choosing baby bedding for twins can be fun and memorable. Take a look below for some of the best baby nursery ideas for twins.
Nursery Ideas for Twins:

Gender neutral: Some parents prefer to put together a twin nursery using gender neutral baby bedding. Gender neutral nurseries do not need to be bland. A cottage beach theme that uses bright colors interspersed among soft creams and blues is an excellent option. Accessories that incorporate sand dollars, star fish and shell shapes are both whimsical and gender neutral. Primary colors are another good choice. A crayon box theme that features baby bedding with splashes of bright color against white walls makes a strong statement.

Boy and girl: Creating a nursery for mixed gender multiples can be challenging, but it's not impossible. Think about drawing themes from popular fictional boy and girl pairs. Juxtapose these characters by hanging wall art that features the female character over the little girl's crib and the male character over the little boy's crib. Draw color schemes from the clothing and colors that these characters sport and choose the appropriate baby bedding to match.

Boy's nursery: Creating a twin nursery for same-gender multiples a bit less complicated. Transportation makes an excellent theme for little boys' baby bedding. Wall art, crib bedding and curtains that feature planes, trains or automobiles are widely available. Themes of this nature will generally feature bright, bold colors that are grounded by dark neutrals, such as greys and blacks. A sports theme is another excellent option. Decorate the twin nursery with fabrics and sports memorabilia that feature a favorite team. Paint a wall mural of children enjoying a friendly baseball or soccer game. Or better yet, decorate the walls and stock the shelves with sports equipment that can be used when the twins get a little older.

Girl's nursery: Decorating ideas for female twins can be doubly feminine but do not have to be rendered in shades of little girl pink. Princess themes are very popular; select a favorite fairy tale and use this story as an inspiration. Pastel curtains in lace and tulle fabrics soften the light in the room and add a subtle radiance. Hang a readymade mural featuring popular princess characters on one wall. Use accessories that the girls can wear when they get a little bigger, such as sparkling tiaras or princess gowns. Another twin nursery idea for little girls is a ladybug garden theme. This theme can be carried out with baby bedding in subtle shades of pale green and dark pink or in bright reds, greens, yellows and blues. Select art prints that feature ladybugs or create a garden world by painting oversize flowers and greenery directly on the walls.

Buy Baby Bedding
Back to Guides Directory