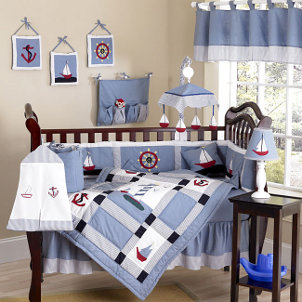 While a blue-on-blue color scheme is always a popular possibility for a boy's nursery, you might be interested in more personal and detailed nursery decor options for your little one's room. Here is a list of several creative ideas that are perfect for a baby boy's nursery. Each theme can guide your selection of decorative accessories, baby bedding, wall art, and furniture.
Ideas for a Boy's Nursery:

Ball games: Boys and sports have always gone hand in hand, and baby boy nurseries are perfect for incorporating this theme. The crib bedding and accessories you choose can focus on one particular sport, such as baseball, football, or soccer; or you can show off a love of all sports with furniture, window treatments, and wall decals prominently displaying sports balls of all kinds.

Animals: Animal-related themes are hugely popular for boys' bedrooms. Baby boy nurseries can be decorated with jungle animals and wildlife decor or farm animals and barn themes, or they can be embellished with decorative accessories that showcase just one animal, such as puppy dogs. Look for animal-themed accessories, including wall decals, wallpaper, lamps, and toys. You'll also find a lot of animal themes in children's art.

Transportation: Transportation themes are adorable options for baby boy nurseries. Crib bedding, window treatments, wall decor, and wallpaper appliques that feature cars, trucks, and airplanes set the mood; add toys to complete the design. You might be interested in focusing on career-related transportation themes with fire trucks, police cars, or rocket ships. Nautical themes are also fun. Ships, anchors, and stripes -- in shades of blue, white, red, and yellow -- suggest adventure on the high seas. Nautical stripes feature a distinctive contrast between bright colors, which is one of the main aspects of a creative and stimulating nursery.

Insects: Bring the outdoors inside with a bug-themed nursery. Search for borders, bedding, curtains, and accessories that feature colorful creatures such as ladybugs, butterflies, dragonflies, and smiling bumblebees. Insect-themed toys and accessories go well with outdoor-themed wallpaper and bedding.

Destinations: Child-friendly destination themes are well-suited to nurseries. Accessories that feature cowboy ranches, zoos, and circuses will lend a playful touch to your son's room. For a cowboy room, consider a rope-themed border with cowpoke bedding and wall art featuring cows and horses. Use baby accessories and bedding that feature animals and bright colors to bring the zoo or circus to his room.

Buy Nursery Decor
Back to Guides Directory