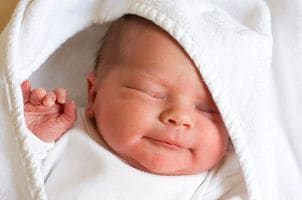 When you're preparing for your new little boy to arrive, you'll want plenty of baby boy clothes to wrap him up in. There are plenty of baby clothes out there to choose from, but finding the right clothes for your little guy means more than just buying the baby clothes you find cute. Some baby clothes are better for little girls, and others may not be the best for newborns. The following tips can help you find the best baby boy clothes for newborns.
Newborn Clothes for Boys:

Make it blue: Nothing says "baby boy" more than cute, blue baby clothing. From baby blue to navy, there's plenty of blue baby boy clothing out there to choose from. Stock up for the arrival of your own little one, or surprise the new parents with a gift basket full of baby bodysuits, baby sleepers, hats and more in shades of blue for their precious little boy.

Warm and snuggly: Newborn babies get cold easily, so you'll want to make sure they're wrapped up in a soft blanket and warm clothes. Look for baby boy clothes that keep him covered and warm, like baby sleepers and layettes that will keep his little feet covered. Look for warm baby boy clothes in cute designs and colors and he'll be absolutely adorable.

Theme sets: It's not all about baby blue when it comes to baby boy clothing. Look for baby clothes with cute themes, like fire trucks, airplanes and puppy dogs. Your little man will look extra cute in a baby bodysuit with a tools or sports applique. You can even find sweet little sets that pair a themed body suit with matching pants and accessories to complete the outfit.

Nice little neutrals: Make the most out of neutrals by choosing baby clothing you can pair with several outfits. An all gender-neutral baby outfit may be a bit boring, but a pair of tan pants will look adorable with a navy blue bodysuit, and a green stripe shirt looks extra cute with frog booties. Mix up your boy's clothing with a few neutrals, and you'll get more baby outfits to choose from in the long run.

All the extras: Don't forget the little things, like socks and hats, when you're shopping for baby boy's clothing. These accessories are easy to overlook, but are just as important as bodysuits, pants, shirts and other clothes. Baby hats, socks, mitts and booties all help keep your baby boy cozy and warm, and they look adorable, too.

Buy Boy's Clothing
Back to Guides Directory