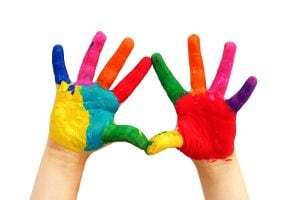 Things You Need:
Paint
Paper
Cotton swabs
Toothpicks
Toothbrushes
Feathers
Sand
Glitter
Ice cubes
Markers
Bib
Clay
Rolling pin
Kitchen utensils
Cookie cutters
Jar lids
Craft sticks
Shaving cream
Plate
Dry cereal
When seeking out the best art activities for toddlers, quick and simple is the key. Young kids tend to have short attention spans and need active art projects that they can, quite literally, wrap their hands around. Fine motor and concentration skills are developed through simple kids'crafts, such as painting or working with clay. These activities for toddlers not only give small children something to do; they can also provide you with valuable opportunities for bonding and creating special memories with your child.
Art Activities:

Painting is an excellent art activity for toddlers. You can use standard finger paint or substitute tempera paint, acrylic or watercolor when painting with your toddler. Toddlers love to dive right in, fingers first, and painting with their hands gives them the chance to be creative and messy. Encourage them to use cotton swabs, toothpicks, toothbrushes or feathers to see the different effects each item has with paint. Help your child to experiment with texture by adding play sand or glitter to the paint or use ice cubes to bleed and blend paints or water-soluble markers. Of course, these art projects will be messy, but don't worry about tidiness; just plan ahead. Set up crafts in areas that are easily cleaned and make sure that the budding artist wears a large bib, smock or oversized T-shirt.

Modeling with clay is a great hands-on art activity for toddlers. Commercially prepared clays are widely available in a variety of colors and styles, and they can provide hours of fun for young children. Your toddlers will enjoy rolling, pounding and shaping the clay with their hands, and you can encourage them to make shapes and letters, turning the activity into a positive learning experience. You can also introduce creative tools, such as rolling pins, kitchen utensils, cookie cutters, jar lids or craft sticks, into the activity, giving your child the opportunity to shape or make impressions in the clay while honing important coordination skills.

Toddlers can appreciate craft projects that feature unusual mediums. If you are short on craft supplies and want to give your toddler a fun, quick art activity, try using household items, such as shaving cream. Spray a generous heap of shaving cream in the middle of a tray or plate and encourage your child to draw pictures in the cream. The cool feel and smooth texture of shaving cream can entertain your child more effectively than you might think. Warm shaving cream can also be used and offers a soothing tactile experience. Another craft medium that can be used in a pinch is dry cereal. You can crush the cereal under a rolling pin or in a blender and your toddler can use this homemade sand in a variety of art activities.

Buy Kids' Crafts
Back to Guides Directory