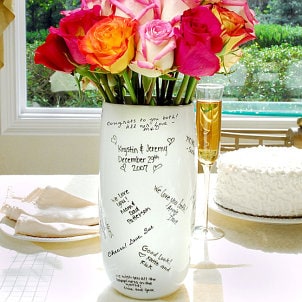 The key to planning a beautiful wedding is getting the details exactly right. When planning your wedding, you can make it one to remember by choosing the perfect guest book. While a guest book is a great way to keep a record of the friends and family who shared your special day with you, many modern brides and grooms feel that a traditional book is too old fashioned for their contemporary wedding. Many modern couples are opting for guest book alternatives. Today's alternatives to guest books can still provide a place to collect and store a signature from each one of your guests, but can be chosen to fit the style and tone of your wedding more precisely. Some alternative choices can even be displayed as part of your home decor.
Alternatives to Guest Books:

Guest platter: The guest-signature platter is one of the most popular alternatives to a wedding guest book. The signature platter is a real serving tray, most often made from porcelain or ceramic. Signature platters have a finish designed to be written on, and many include a pen that leaves permanent markings on the surface. One advantage to this option, or a similarly crafted signature vase, is that the platter can be brought out during your anniversary celebration, used at dinner parties or used as an everyday reminder in your home of your wedding day.

Picture frame: Another popular alternative to a guest book is a picture frame with an oversized mat. The extra-large mat surface is the perfect place for guests to sign. Place an engagement or other photo inside the frame and set it out on the sign-in table; guests will be inspired to write a heartfelt note before leaving the reception.

Cards: Small notecards are also a viable option if a traditional guest book isn't your style. Stock the sign-in table with pre-cut pieces of paper or cardstock, a variety of writing utensils and a festive box for collecting the finished cards. For added fun, offer the option of glitter pens, stickers or ink and stamps and let guests create a spontaneous card for you. Cards are ideal for larger ceremonies where the number of guests makes fitting signatures on a platter or photo frame impractical. Guests are likely to feel more comfortable writing you a personalized message in a card than in an open book, and after the ceremony, you'll have a collection of well wishes to read through.

Buy Wedding Planning Supplies
Back to Guides Directory