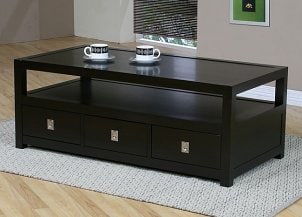 Don't ask what you can do for your coffee table; ask what your coffee table can do for you. Coffee tables are nothing if not multi-tasking furniture pieces that can accomplish a lot with a little. Trunk storage, magazine racks, drawers, shelving, hidden seating or even built-in ottomans are all possibilities, but beware of the busily tricked-out coffee table that includes all of these features. The message bears repeating: Think about the form and function of your coffee table. How will its design impact how you use it? The modern coffee table comes with plenty of extras, so choose carefully.
Best Coffee Table Extras:

Drawers: Drawers on a coffee table are excellent features for storing remote controls, cards, games or magazines that don't necessarily make the coffee-table display cut. If you are always losing remote controls or your entertainment requires the use of several remotes, a coffee table with a drawer or two could save a lot of strive. Usually, the drawer will fit in right under the surface of the accent table so it won't take much additional space or get in the way.

Storage shelves: Compartmentalized storage shelves are perfect stashes for family members who have a habit of leaving textbooks, notebooks or other personal items in the living room. Trunk storage is best for those who like to snuggle up with one or two blankets for movie night. Once you have a notion of the space's ideal use, your coffee table's style and features will be calling your name. Unlike drawers, shelves under your coffee table will have quite a bit more storage space. On the other hand, the items will be out in the open.

Lift tops: A lift-top coffee table provides an easy way to hide away any items you plan on remaining in one place for a long period of time. The top surface of the coffee table is usually hinged, so it can lift right off for extra storage. Sometimes, the entire top can be lifted off the coffee table to be placed back on the top later. The downside to a lift-top coffee table is that you can't transport items in and out of the coffee table easily if you have things placed on the surface of the coffee or cocktail table.

Buy Coffee Tables
Back to Guides Directory