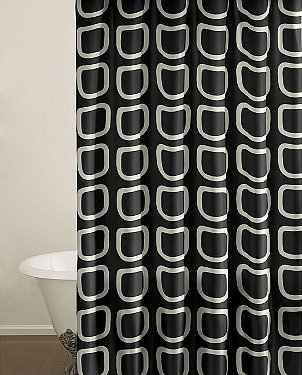 Modern style home decor, including modern shower curtains, is characterized by simple lines and an emphasis on function. Outfitting your home with a contemporary look means using bold colors, strong shapes and minimal accessories. A modern shower curtain can be the canvas for a contemporary look, but truly transforming your bathroom will require bath accessories that work with the design aesthetic, instead of fighting for attention. Whether you're looking to completely transform your bathroom or just want to accessorize your contemporary space, keep reading to learn all about the best accessories for modern shower curtains.
Modern Bath Accessories:

Frameless mirrors. If you're going for a modern look, ditch the ornately framed bathroom mirrors or medicine cabinets and pick up a frameless wall-mounted mirror with clean lines. Many frameless mirrors feature geometric accents around the border to jazz up your bathroom while staying true to the contemporary style you crave.

Glass shelves. Sleek glass shelves are perfect for adding extra storage space to modern bathrooms. These simple yet chic shelves will highlight your contemporary shower curtain instead of detracting from it. If your bathroom is on the smaller side, glass shelves will free up valuable counter space without adding bulk to your bathroom's design statement. If your bathroom lacks wall space, try a compact glass corner-shelving unit to utilize every nook and cranny available.

Stainless steel accessory sets. Stainless steel is commonly used in modern bathroom decor because it channels the industrial spirit of contemporary design. For a cohesive look, try adding a stainless steel wastebasket, toothbrush holder and soap dish to your bathroom accessory lineup. These stainless steel accent pieces look great perched on a glass shelf and complement any modern shower curtain.

Wall-mounted cup holders. Chrome cup holders add visual interest to your modern bathroom and help free up counter space in small bathrooms. Modern style is all about contemporary architecture and with futuristic wall-mounted tumbler holders you can channel the look of gleaming steel skyscrapers. Place two cup holders on either side of your vanity mirror for a geometric look that works will with similarly designed geometric shower curtains.

Buy Bath Accessories
Back to Guides Directory