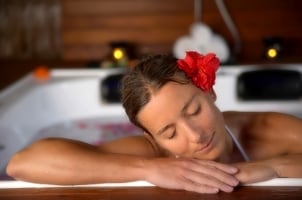 Although hot tubs and spas aren't a cure for anything except for feeling cold on a winter night, hot tubs can help alleviate a number of pains like headaches, arthritis and sore muscles. Spas have also been shown to provide a better night's sleep. Hot tubs are also just plain enjoyable to soak in.
Hot Tub Benefits:

Soothe sore muscles: The warm water of a spa tub increases blood circulation which helps loosen muscles and speeds the recovery of tears in the muscle tissue. And the massaging action of the jets aids in the removal of lactic acid, which causes that sore feeling after an intense workout.

Stress relief: The massaging action of the warm water in a hot tub causes the body's endocrine system to release endorphins that release stress from your body and mind. The sounds of the water bubbling or a waterfall feature in your hot tub put your mind at ease. And the simple fact that you are taking some time for yourself to sit and enjoy your home spa will take away some of the stresses of the day.

Sleep better: The same way a hot tub spa helps you relieve stress is the same way it helps you sleep. And we all know the value of a good night's sleep.

Headache relief: Soaking in a spa tub dilates the blood vessels. This dilation of the blood vessels helps alleviate painful headaches.

Lower blood sugar: Studies have shown that consistent soaks in a hot tub can significantly lower blood sugar levels in the body.

Social: Let's not forget about the pleasurable activity of sitting in your home spa. Whether you invite a few friends over for a soak or want to have a romantic evening with your significant other, a hot tub is the way to go.
Warning:

The content on this site is not intended to substitute for the advice of a qualified physician, pharmacist, or other licensed health-care professional. The products may have additional information and instructions on or inside the packaging that you should carefully read and follow. Contact your health-care provider immediately if you suspect that you have a medical problem. The use of dietary supplements may not have been evaluated by the Food and Drug Administration and is not intended to diagnose, treat, cure, or prevent any disease or health condition.

Buy Hot Tubs and Spas
Back to Guides Directory