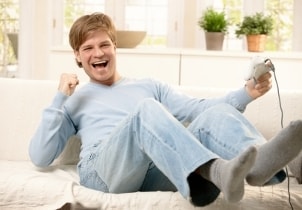 Anyone shopping for an Xbox 360 or other game console knows that the competition between video game systems is fierce. This is great for gamers because it means that the major companies are packing advanced features into their game consoles. The Microsoft Xbox 360 keeps adding new features and capabilities with each new version of the console, making it a powerful media system in addition to a video game platform. Here are some of the benefits that Xbox 360 console owners can expect.
Xbox 360 Highlights:

Consoles with large hard drives: Xbox consoles are becoming more like central media centers for your entertainment system than just game systems. With a large hard drive, you can store music files, movies, photos and downloadable content for Xbox 360 games. Because many different versions of Xbox 360 have been released, you'll see a variety of hard drive sizes for different console versions.

Xbox 360 Hard Drive Capacities

250 GB: The larger version of the current Xbox 360 S features a 250 GB drive, as do some remaining Xbox 360 Elite consoles.

120 GB: The smaller versions of discontinued Xbox 360 Elite models have 120 GB drives.

60 GB: You'll find this drive size in the discontinued Xbox 360 Pro bundles.

20 GB: Discontinued Xbox 360 Pro models feature 20 GB drives.

4 GB: Cheap Xbox 360 S models currently in production have 4 GB of flash memory with the space for a hard drive upgrade.

Wireless media streaming: Certain Xbox models with built-in wireless or a connected Wi-Fi adapter can connect to your PC and the Internet through your home wireless network. You can then stream movies, music and other files to your Xbox from your PC or online.

Xbox Live multiplayer gaming: Millions of Xbox players play cooperatively and competitively through the Xbox Live subscription service. You can also download Xbox games from the network or new content for your existing video game library.

Xbox 360 games with Kinect: You can now play Xbox games without a controller using the Kinect motion-gaming system for Xbox 360. Kinect detects your body movements and even puts video of you directly into the game.

Cheap Xbox 360 bundles: Buying games, controllers and a game console together in an Xbox bundle is a great way to get a whole gaming setup for less. Look for Xbox bundles that include games, extra controllers and even the Kinect to save even more money.

Buy Xbox 360
Back to Guides Directory