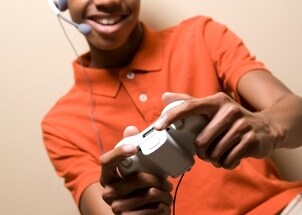 If you are an avid gamer, you need gaming headphones. Now that video games have similar budgets and production quality to blockbuster movies, the sound quality has improved to home-theater levels. You may not have a home-theater surround system connected to your PC or game console, however. High-quality headphones can translate the great sound production of your video games into a better gaming experience. Here are more details on the benefits of using gaming headphones.
How Headphones Make Games Better:

More audible game sounds: The speaker drivers on your TV or computer speakers may not have the ability to faithfully reproduce all of the sound detail that your system is capable of. Find gaming headphones with good frequency response to hear sounds you didn't even know were there.

Improved competitive game-play: With the improved sound detail, you'll pick up more audible clues while playing. You'll have faster reaction times and more easily locate competing players when you can hear their footsteps, power-ups and other actions through your gamer headset. A set of 5.1 surround-sound gaming headphones can even place those sounds in a three-dimensional audio environment so you know which direction they're coming from in the game.

Isolated sound: Not everyone in the house wants to hear the explosions and other sound effects from your games. Over-the-ear headphones will keep the sound isolated to your ears only. The option for stealthy game audio is great for late night gaming sessions and makes quality headphones a good option for watching movies and TV as well.

Enhanced communication with teammates: Most gaming headphones include a built-in microphone, letting you chat with fellow gamers during online competitive play. A built-in microphone is convenient, but you'll get even better sound quality through your gaming headphones if you use a separate microphone. Either way, your teammate communication will improve.

Compatibility between game consoles: A good set of gaming headphones will work with multiple video game consoles, including your PC. With a PC, you may get better sound quality from your headphones if you have a sound card installed. Being able to switch between game systems without needing a different headset for each is a nice advantage.

Buy Headphones
Back to Guides Directory