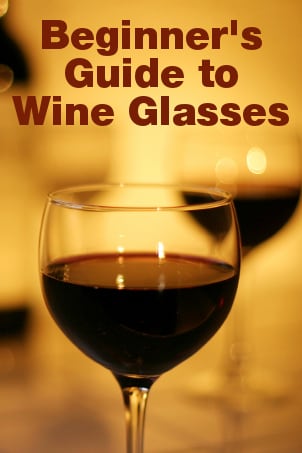 SHOP WINE GLASSES NOW >>
For many, the act of buying wine glasses is a pivotal step in the march towards adulthood. Truly turning a house into a home means having the ability to make guests feel welcome, and offering someone a drink, be it alcoholic or not, is a step in the right direction. Buying wine glasses and other barware, even if you're not a drinker of alcohol, can add a feeling of completion to any home and add an air of celebration to any event.
The Basics of Wine Glasses:

They come in different shapes: Wine glasses are specifically designed to highlight different kinds of wine; white wine glasses are a different shape than red wine glasses for a reason. Red wine is commonly served from a wine glass with a large bowl and wide mouth while white wine does best from a narrower glass with a smaller mouth. The more delicate proportions of a white wine glass help concentrate the subtle aromas that make white wine so appealing while a wide bowl allows more robust red wines to breathe before being consumed.

They don't always have to be washed by hand: Different wine glasses require different levels of care. Crystal wine glasses and other barware with delicate stems or thin bowls should always be washed by hand. While they might survive the dishwasher, it's not worth the risk of losing a cherished glass or breaking up a set. If, however, you have wine glasses you're not worried about replacing or a set that's designed for heavier use, then a dishwasher is perfectly acceptable.

They can be used for things besides wine: Wine glasses add an elegant element to any table, even when they're empty. If you don't plan to serve wine with dinner, you can use your wine glasses for juice or sparkling cider; any occasion can be made more festive with elegant stemware. Wine glasses can also be used to serve desserts. Delicately layered pudding can be showcased in tall glasses, and round glasses full of delectable berries add color to a formal table.

They are not the same as martini glasses: Today's wine glasses often feature a more universal size and shape than wine glasses of the past. Limited cabinet space plus the inclination to test many types of wine makes a super specialized glass impractical for most users. While red and white wine glasses can be used somewhat interchangeably, the same is not true of martini glasses, champagne flutes, and tumblers.

Shop Wine Glasses
Shop Toasting Flutes
Shop All Glasses & Barware
See All Guides
Read More Kitchen & Dining Guides
Learn More about Glasses & Barware