Bedspreads vs. Comforters
by Paul Sanders
The covering you put on your bed can affect the style of your bedroom as well as your comfort when you're sleeping. If you're trying to choose between a comforter and a bedspread, consider the differences between the two. The features of one may make it more appealing to you over the other.
Bed Covering Features: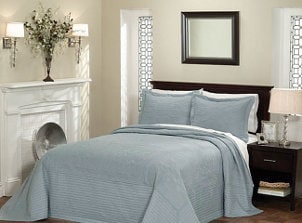 Shop Fashion Bedding ▸
Size:

A fluffy comforter softens the straight edges of your mattress and adds a voluminous feeling. A bedspread is more form-fitting, draping closely over the bed. This minimizing effect works well on some antique bed frames, such as brass beds, which might be overwhelmed by a comforter. Modern platform beds and classic sleigh beds are better suited for comforters. Bedspreads are also longer than comforters, reaching to the floor, so they may not work well with storage beds.

Warmth and weight:

You'll want to balance the warmth of your bedding according to the climate you live in, the current season, and your ideal sleeping temperature. Bedspreads and comforters are designed with different shell and fill materials that affect how warm and heavy they are.

Which is Right for Your Climate?

Comforters:

Because they have thick filling, comforters provide superior insulation in cold climates. Down, wool, or cotton fillings trap heat, but the natural fibers still breathe well. A polyester filling will keep you warm, but it's not as breathable.

Bedspreads

Single-layer bedspreads are thinner and lighter than comforters. You'll appreciate fewer layers and less weight in a warmer climate. Quilted bedspreads have a thin filling for extra warmth, so they can be layered on your bed in winter months.

Patterns and stitching:

The minimal stitching in a comforter's shell is designed to keep the fill from shifting. Quilted bedspread stitching is more decorative, creating floral or geometric patterns that create a visual texture even when the fabric color is uniform. Prints add elegant touches to both.

Colors and styles:

One thing that bedspreads and comforters have in common is the wide variety of available styles. Whatever look you want in your bedroom, you'll be able to find something that works, so this factor won't stop you from choosing the perfect bed covering.