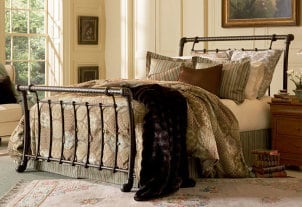 Bed skirts aren't the only way to keep dust out from under your bed and conceal the items you have stored there. You may have never given it a second thought, but dust ruffles and oversize duvets can be great substitutions for or work even better than bed skirts, depending on your circumstances. Keep reading to find out which bedding accessory is right for you.
Which Covering Works for You?

Dust ruffles: Dust ruffles are often confused with bed skirts, but they're actually different. Unlike bed skirts, dust ruffles simply wrap around the base of a bed, often attaching with Velcro or elastic. That might sound like a small difference, but it actually gives dust ruffles some distinct advantages. For example, dust ruffles are much easier to install and remove than bed skirts since you don't have to lift up the mattress to put on a dust ruffle. Also, you can use dust ruffles on cribs, on beds that rest directly on a frame or on beds that don't fit regular bed skirts.

Oversize duvet: Using an oversize duvet or comforter that hangs to the floor looks great and can save you time and money. Using a duvet or comforter that hangs to the floor gives your bed a distinct, luxurious look that you just don't get with a comforter that "fits." Also, an oversize comforter or duvet eliminates the need for another covering, be it bed skirt or dust ruffle. That can save you money and hassle if you decide you like the look of an oversize duvet, especially if you like to change your duvet often, since you won't have to find bed skirts or bed ruffles to match. Lastly, footboards can cause bed skirts and dust ruffles to bunch up, which is not an issue with oversize duvets.

Bed skirts: Bed skirts -- which look like dust ruffles but use a broad piece of fabric that stretches over your box spring to keep in place instead of elastic or Velcro -- are the most common bed base covering, and with good reason. While they do take a minute to put on your bed, they stay put once they're there. For the average user, this may be perfect. If you don't plan on changing your bed-base covering often and if you aren't interested in the plush look of an oversize comforter, then a bed skirt is probably the right covering for you.

Buy Bed Skirts
Back to Guides Directory