Bed Sheet Fabric Guide
by Staff Writer
When you are purchasing bed sheets, you have a lot to consider. Color, size and style are all important factors you will want to think about when you're looking for the ideal sheets, but the most important factor of all is fabric. The fabric of your sheets will determine how comfortable you are at night. Everyone has a different favorite among sheet fabrics, so take a look at the bed sheet fabric guide below to learn about their varying characteristics.
Bed Sheet Fabric Facts: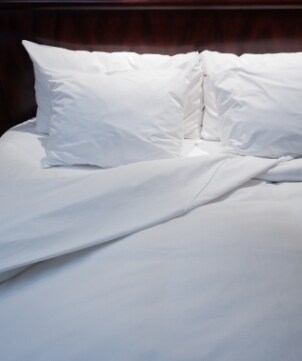 Shop Sheets ▸
Combed cotton:

Combed cotton is cotton which has gone through a process to remove shorter fibers and any impurities in the material, which creates a smooth, soft fabric.

Egyptian cotton:

Egyptian cotton is a type of long-staple cotton grown only in Egypt. It enjoys worldwide renown as the strongest, most beautiful and lustrous cotton produced, and its extraordinary quality is due to the long growing season in that country. Sheets of Egyptian cotton with a high thread count are reputed to be more luxurious than any others. Thread count for Egyptian cotton bed sheets is usually 200 and above.

Flannel:

Flannel is a blend of cottons. Quality is not measured by thread count, but in ounces of material per square yard of fabric. Four ounces or more per square yard is considered good-quality flannel. Flannel bed sheets are highly popular for their warmth and are often used in baby bedding.

Italian linen:

Italian linen is a luxurious fabric made only in Italy from the long-staple cotton that is grown exclusively in Egypt. The lustrous cotton and the processes used in Italy to create the fabric are of such a high quality that bed sheets of this material are truly luxury items.

Muslin:

Muslin is cotton that is rougher yet tougher than others. Muslin is frequently used in children's bedding and printed with shapes or figures. During washing, this fabric tends to "pill" and fade more than other bed sheets. The thread count varies from 128 to 140.

Percale:

Percale is a combed and close-woven cloth made of either cotton-polyester blends or 100-percent cotton. It is finer and softer than muslin and generally has a thread count of 180 to 200. Because of their polyester blend, percale sheets have a very low wrinkle factor.

Pima cotton:

Pima cotton bed sheets have a silky, soft feeling. Pima is grown only in Australia, Peru and in the United States in Pima, Arizona. "Supima" is a trademarked name for 100-percent pima cotton, which has been grown in the United States. The term means "superior pima." Pima cotton sheets usually have a thread count of 200 to 300.

Sateen:

Sateen is a weave, not a fiber. It is a certain weave of natural fibers and cotton and should never be confused with silk. Sateen sheets are produced in a unique four-threads-over-one-thread method of weaving, which gives these bed sheets their special luster.

Satin:

Satin is also a weave, not a fiber. Satin is woven of wool, cottons, acetate, polyester, silk or other materials. All weaves of satin bed sheets are extremely smooth and sleek.

Silk fiber:

Silk fiber sheets are known to be more desirable and luxurious than any other sheets. Silk threads are longer than any other because each single fiber of the silkworm cocoon, unwound, can reach 1600 feet. This makes silk fibers very delicate and extremely strong. Silk fabric is not graded by thread count, but by "momme weight." The standard is a piece of silk that measures 45 inches by 100 yards. Two ounces per linear yard equals 12.5 momme weight. The higher the momme weight, the more silk that is used in weaving. Garments are usually made from 8 to 12 momme, while silk bed sheets usually have a heavier 16 to 19 momme weight. Silk is versatile and elegant and is the only fabric we use that has a history going back more than 3,000 years.