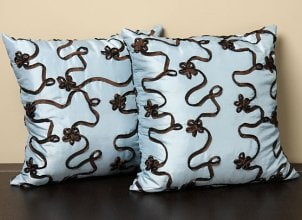 Dress up your bed with both throw pillows and bed pillows for a cozy, relaxing spot. While down bed pillows are functional and provide support and comfort for the sleeper, throw pillows serve as accents, adding texture and color to the bed. This guide will help you find both bed pillows and decorative throw pillows and determine the features of each.
Bed Pillows and Throw Pillows:

Function: The function of bed pillows is to provide support for optimum comfort while you sleep. Accent pillows provide decoration when the bed is made and enhance the bedroom's overall appearance. A bed pillow is necessary for sleeping purposes, especially a back pillow or neck pillow, while throw pillows are optional enhancements to the decor of the bedroom.

Shapes: While a sleeping pillow is always rectangular in shape, decorative throw pillows come in a variety of shapes. There are rectangular throw pillows, but they also come in shapes such as squares, ovals, circles and even cylinders. The variety of throw pillow shapes adds interest to the bed.

Size: The standard size of a sleeping pillow ranges from 20 by 26 inches to 22 by 36 inches. Throw pillows vary in size but are usually smaller than bed pillows. The dimensions of decorative pillows depend on their shape and style. Contrasting shapes create a point of interest and draw the eyes to the bed.

Features: A comfort pillow can include features such as a hypoallergenic fill or cover as well as a variety of firmness choices and fillings. You can also choose down bed pillows for the ultimate in softness. Decorative pillows have features such as fine fabric exteriors, detailed embroidery and a variety of colors. Choosing throw pillows that match the overall colors of the bedroom can pull the whole room together, creating a polished and elegant look.

Details: A comfort pillow is meant to slip inside a pillowcase, so it has a plain exterior. If you need a back pillow for comfort, you'll want a simple cover that doesn't irritate your skin. Accent pillows often have intricate detailing, such as embroidery, beading, ruffles and lace. These details add a luxurious look to the bed and to the room in general.

Buy Throw Pillows
Back to Guides Directory