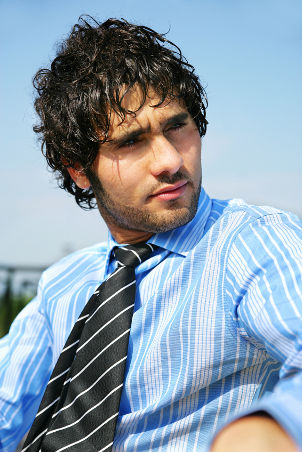 One of those helpful hair cutting tools and grooming gadgets that makes personal care easier, beard trimmers offer several benefits beyond a pair of scissors or a hand-held razor. Some beard trimmers are designed with contouring functions that make it simple for the user to sculpt a mustache, shape a beard or manage unruly sideburns. If you're looking for a high-quality grooming tool that will help you manage and shape your beard, consider hair trimmers that are made specifically for beards. A beard trimmer will help you cut and trim your facial hair at home. Use our facts to choose a quality electric trimmer or cordless clipper for your routine.
All about Beard Trimmers:

Function: Beard trimmers are designed to trim hair on the face and neck area using either rotating or oscillating razors. Electric trimmers are designed to trim the length of a beard, trim a mustache or remove facial hair completely. The hair trimmer razor is guided along the edge of the beard, and the hair is cut off near the skin to fall under a perforated shield of the razor. The cordless clipper glides across the jaw line and cheekbones to trim away excess hair quickly.

Types: Some beard trimmers are powered by batteries, and others are rechargeable. Some beard trimmers may also be powered by a power adapter that is plugged into a wall outlet. Different types of beard trimmers are designed for short and long hair, and design features may help take care of stubble, shape sideburns or groom a mustache.

Features: Different beard trimmers have different features, including a removable distance comb to style and clip different lengths of hair, a memory feature that allows the user to set the trimmer to a particular setting and adjustable speeds to cut and shape coarse or thin hair. Some beard trimmers are designed with an ergonomic handle, so you can use the trimmer at different angles with ease. Many rechargeable beard trimmers have an LED charging light that indicates when the unit has reached its full charge.

Benefits: Beard trimmers make it easier for you to trim your beard, by allowing you to do it at home. Rather than sacrificing the style and shape of your beard waiting for an appointment at the barber, you can keep it trim on a daily or weekly basis. Beard trimmers can provide more precise trimming functions than hand-held razors or an electric shaver, and they can be used to trim and shape all lengths of hair around the face and neck area.

Considerations: Beard trimmers provide the best results when they are used to cut dry hair. Wet hair appears longer than it really is, so cutting the beard wet may result in cutting away too much. It's generally a good idea to comb the beard before cutting so that the hair is as straight as possible. Additional grooming tools may be needed to trim stubborn or hard-to-reach areas.

Buy Hair Cutting Tools
Back to Guides Directory