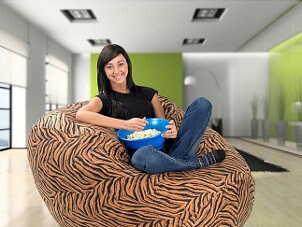 You may be considering the benefits of placing a bean bag in your den. Once you start researching bean bags, you'll realize that there's also a product called a lounge bag available for purchase. Before you decide on new furniture, consider the pros and cons of bean bags vs. lounge bags. Bean bags and lounge bags are very similar, but the subtle differences make it possible to pick the perfect furniture for your home.
Bean Bags and Lounge Bags:

Bean bags: A bean bag is exactly what it sounds like: It consists of a fabric shell, usually round though sometimes more oblong, packed with "beans" (Styrofoam beads). Bean bag chairs are designed for comfort more than support but can be molded, like pillows, into backrests and lap desks.

Lounge bags: A lounge bag is very similar to a bean bag, but it offers more support. While bean bags are free-form and pliable, lounge chairs are more solid and tend to have a shape. They can be shaped like a chair, a cube or even a large disc. Lounge chairs are sometimes known as "gamer" bean bags because they're great for settling into for a long day of gaming.

Similarities: Lounge bags and bean bags are the same in that they're semi free-form seating solutions. Both rest on the floor rather than on legs, and both are covered with a soft material, like fabric or vinyl.

Differences: Bean bags and lounge bags are different in the way they're structured. Bean bags in general have less filling, so they're softer and more maneuverable than lounge bags. Because lounge bags are firmer than bean bags, they provide better support for long periods of sitting, but they don't convert well into sleepers like a bean bag can.

Functions: Bean bags are great for getting cozy. They're a perfect way to give a child a piece of furniture that's all his and can encourage him to make a space his own. The very nature of bean-bag fill encourages napping. It retains heat and snuggles around you, so you can sink in and relax while you watch TV. Lounge bags, on the other hand, provide more support, so you can stay comfortable but still alert while playing video games, working at the computer or watching a movie.

Buy Bean and Lounge Bags
Back to Guides Directory