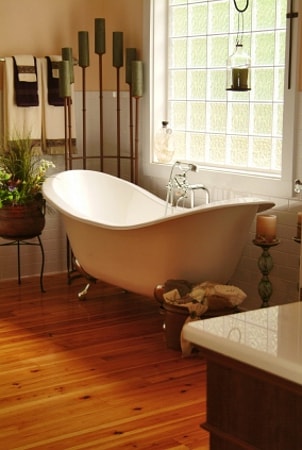 With so many choices when it comes to bathroom accessories, how do you decide on what you need in your bathroom? Start by following the tips in this bathroom accessories buying guide and you'll have all of the basic bath accessories you need for any bath or powder room.
Essential Bathroom Accessories:

Start with shower curtains: Shower curtains will save you from the headache of wet floors and the damage that could result. They can be decorative as well as practical, so be sure to choose a shower curtain with a color or design that suits your bath. A shower curtain color that picks up hues in your flooring or countertops will look stylish, or choose a shower curtain that coordinates with your towels and wall color for a striking look. You can find shower curtains in a variety of materials to suit your bathroom decor, including fabric and vinyl. If you choose a fabric shower curtain, consider investing in a shower curtain liner to prevent water from soaking it. Vinyl shower curtains don't last as long as fabric ones, but they make up for it with a lower price. Shower curtains come in two sizes, standard and stall, so make sure to measure your shower before purchasing one. Choose a shower curtain rod in a color or finish that complements the rest of your bath decor. For example, you may want to choose a plastic curtain rod in the same color as your towels or a metal rod in the same finish as your faucet. Plastic hooks and rings can be an inexpensive choice, and they are available in many colors. Metal hooks and rings are popular, and although they can be more expensive, they will last for a long time.

Add bath mats and bath rugs: Although shower curtains are designed to prevent water from reaching the floor, some water will probably make it down there now and then. A bath mat or bath rug will soak up water from the shower as well as water from wet feet stepping out of the shower. Bath rugs provide cushion for your feet as you stand at the sink to brush your teeth and warmth from the cold floor for late-night visits. Bathroom rug sets often include coordinating bath mats, contoured rugs for beneath the toilet, seat covers and a bathroom rug for the floor beneath the sink. Some shower curtain sets include a bath mat that will match your shower curtain, making it easy to have a stylishly coordinated bathroom.

Bring in some towels: Towels can be as stylish as they are useful. Wrap yourself or your kids in a big, fluffy towel to retain heat and absorb water and coordinate the look of your bath with matching bath towels, hand towels and wash cloths. Decorative fashion towels add another level of decor to a bathroom, so you may want to have a few of those, too, especially in a guest bath. Durable and absorbent cotton is usually the fiber of choice for bath towels. Cotton is made into terrycloth, which has small loops that can absorb large amounts of water. The most commonly used variety of cotton is traditional American upland cotton. Another popular choice is Egyptian cotton. Egyptian cotton has long fibers, which result in towels with high absorbency and a luxurious feel. Supima, or Pima, cotton is also extremely absorbent and soft.

Finish with bathroom decor: Finish the look with some bathroom decor. Look for coordinated sets of soap dispensers or dishes, toothbrush holders, waste baskets, lotion dispensers and tissue box covers to make decorating easy. Increase the look by matching these accessories with your towels or shower curtain. Don't forget stylish new hardware and bathroom fixtures, like door handles, faucets, shower heads and towel racks. Bathroom fixtures like these may be the some of the smallest bath accessories in your bathroom, but they can make a huge difference in the look and style of the room. Match them to your shower curtain rod and its hooks or rings for a refined touch.

Buy Bathroom Accessories
Back to Guides Directory