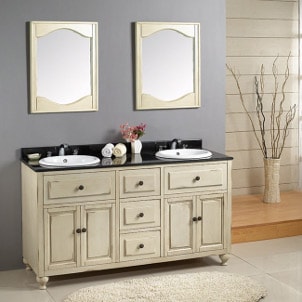 An often over-looked piece of bathroom furniture is the bath vanity. The bath vanity is the place where most of us prepare for the day or for a night on the town. Bath vanities keep all your bathroom essentials in one easy-to-access location. There are many different options when it comes to what you should store on your bath vanity. Keep reading to find out what kind of bath vanity necessities you need.
Essential Bath Vanity Items:

Mirror. While you may not exactly need a mirror to help you brush your teeth, mirrors are needed for many other routines. A mirror comes in handy when you're getting ready for work or for a night on the town. Men use mirrors to make sure they haven't missed a spot while shaving; women depend on mirrors while they apply their make-up; and both can use it for styling hair or putting in contacts.

Adequate light. It's important that your bath vanity is properly lit so you can clearly see what you're doing. If your bathroom vanity seems dim, then maybe it's time to seriously consider upgrading your vanity lights.

Toothbrush holder. Laying your toothbrush on your vanity counter can leave water spots and toothpaste smears. A toothbrush holder prevents mess as well as promotes sanitation. Keeping your toothbrush in a toothbrush holder can help keep your toothbrush germ-free for the next time you need to use it.

Soap holder. A soap holder keeps your bathroom furniture clean whether you prefer bars of soap or the liquid kind. Keeping your bar of soap in a soap holder prevents slippery scum from building on your bathroom vanity. In addition, a soap holder from a bathroom-vanity accessory set gives your bathroom a common theme.

Face and/or hand towel. Hand towels are perfect for drying your face and hands, especially when a large towel is not readily available. Since hand towels are easier to store than large bath towels, keep one or two in your bathroom vanity at all times.

Extra storage. Even if your bath vanity comes with some type of cupboards or drawers, it's still a good idea to invest in storage baskets or dividers for your vanity countertop or your cupboards or drawers.

Buy Bath Vanities
Back to Guides Directory