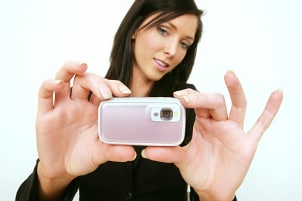 You can easily spend a lot on the most advanced DSLR camera and high-end photography equipment, but a simple point-and-shoot camera probably just requires a few basics that you can easily find good deals on. Once you've found the perfect digital camera, consider a few of these camera equipment necessities to round out your photography starter set.
Basic Camera Equipment:

Camera case or pouch: Cameras are designed to be portable. But taking them everywhere means that they get exposed to inevitable bumps and scratches. Look for cases and pouches that are designed to protect cameras from accidental damage and even store a few of your camera accessories.

Tripod: The problem with most cameras isn't that they don't take great photos, but that it's hard to keep them steady enough to eliminate annoying motion blur. Even a miniature camera tripod will allow you to steady your camera for balanced shots and let you get into the frame once in a while.

Memory card: Digital cameras make photography more convenient by eliminating film and development, but you'll need memory cards with enough storage to collect those digital photos. Cameras with more memory can take more photos or store photos at higher resolutions. Extra memory cards are essential if you plan on shooting video with your digital camera. Watch for deals on cheap memory cards to keep as spares in your camera bag.

Camera batteries: Even with a lot of memory, cameras can only take photos as long as they have power. Look for camera batteries with high milliamp-hour (mAh) ratings for longer battery life. You might want an extra battery or two in your camera bag, as well.

Cleaning kit: Cameras can't take great photos with a dirty lens. Use a proper cleaning kit and solution to keep your camera lens free of grime and dust without damaging the lens itself. Many cameras will include a small cleaning kit when you purchase them.

Cables: The best cameras come with multiple connector cables for charging your camera and transferring video and photos to your computer. But your digital camera may have connection ports for cables that aren't included, like HDMI and composite video cables. If you want to connect with these ports, you may need to buy separate cables for your camera.

Buy Digital Cameras
Back to Guides Directory