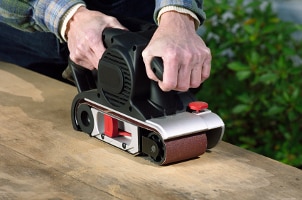 Carpentry can be a challenging hobby or a satisfying career. Below are some basic carpentry tools that nearly every woodworker will find handy. While this isn't a comprehensive list of woodworking tools, it's a good starting point for novices who want to get started in carpentry. As you progress through woodworking projects of increasing difficulty, you'll learn which tools you need for the work you want to do.
Tools for Novice Carpenters:

Planes: Planes are basic tools that will help you to shape and smooth rough lumber. Using hand planes on rough lumber can save you a lot of money compared to buying pre-cut wood from home improvement stores, and it gives you a chance to practice shaping the wood. You can use shaped planes to make moldings and adjust the thickness of a wood piece. As you advance, you may upgrade to power tools, like a planer, for surfacing wood.

Tape measures, rules and squares: It's the carpenter's mantra: "Measure twice and cut once." With a tape measure on your tool belt, you'll always be ready to make quick, accurate measurements. Squares and rules can help you align joints and mark pieces for cutting. In woodworking, there's no substitute for good measuring tools.

Levels and plumbs: Levels and plumbs can help you make sure wood pieces are fitting properly. They also help you make awkward measurements on your pieces by using gravity as a point of reference.

Chisels: The chisel is a testament to how ancient woodworking tools stand the test of time. You'll need a good selection of chisels in your tool set for cutting, shaping and cleaning up rough edges or joints on wood pieces. Many carpenters spend years honing their skills with these hand tools.

Power sander: Sanding tools are part of the finishing process, giving your work a smooth, attractive surface. These power tools can save you significant time and effort when smoothing. Sanders, like other power tools, also have the advantage of being more exact and consistent than hand tools, which is essential for good woodworking.

Power saws: You can start with a circular saw and then work up to more advanced power tools. Power tools, like miter saws and table saws, will give you precise control over the angle and depth of cuts, which will create tighter joints and straight edges for your work pieces. A jigsaw will give you more manual control for curving cuts or creating large cutout holes in wood pieces.

Router: Routers will allow you to hollow out areas in wood faces or shape rounded edges, adding texture and dimension to your work. Use router tables to give you even more control over the shape and size of your cuts.

Buy Tools
Back to Guides Directory