Bakeware Buying Guide
by Staff Writer
Stocking a kitchen can be a tall order, especially since there is so much variety to choose from. Because bakeware is one of the kitchen items you use most, finding the right bakeware shouldn't have to be intimidating. Once you decide which bakeware pieces you need -- cookie sheets, casserole pans, cake pans, muffin tins, bread pans, lasagna pans, tart and quiche dishes and others -- you need to determine which material of bakeware is right for you. This bakeware buying guide is here to help.
Buying Bakeware Essentials: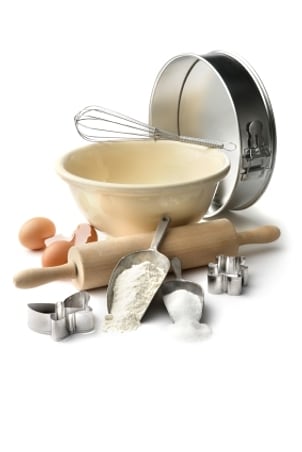 Shop Bakeware ▸
Glass bakeware

Glass bakeware is made of low-expansion glass that can move from freezer to oven and back again. Glass bakeware doesn't retain food odors or stains and is easy to clean; you can serve from your glass bakeware, too. You can also gauge the doneness of your food better, just by looking at the bottom of the pan. Glass bakeware absorbs the heat instead of reflecting it, which means that glass bakeware cooks food faster, so be sure you adjust your baking times accordingly. Glass bakeware comes in every possible bakeware shape except cookie sheets.

Nonstick bakeware

Non-stick bakeware is a very popular timesaver. This bakeware is coated with a nonstick substance, such as Teflon, that keeps the food from sticking. It is easier to clean nonstick pans than most other types of bakeware, and your food usually won't burn. Since nonstick coatings come off over time, this bakeware may eventually need to be replaced. Remember to never use metal utensils with this kind of bakeware. Nonstick bakeware comes in every type; nonstick cookie sheets are very handy. Because nonstick bakeware is a darker color, you'll need to make adjustments to your baking time so food doesn't become too dark.

Cast-iron bakeware

If you've ever used a Dutch oven, you appreciate how evenly food cooks in cast iron. Unlike Dutch ovens, most cast-iron bakeware is enameled. The enamel coating prevents rust and eliminates the need to season the cast iron. It also makes cleanup much easier. Cast iron is energy efficient; once hot, it requires only a low heat setting to continue its cooking performance. Enameled cast-iron bakeware can be used on all heat sources, including induction. The enamel pigments can be very bright and vibrant colors, making enameled cast-iron bakeware both fun and functional. Cast iron is also the favorite bakeware of many professional chefs.

Silicone bakeware

Silicone bakeware is growing rapidly in popularity. This bakeware is light, flexible and easily withstands heat up to 675 degrees Fahrenheit. Its flexibility makes removing baked goods easier, and it's easy to clean. Silicone bakeware comes in many shapes and colors. Although you won't find any silicone cookie sheets or jelly roll pans, you can find silicone liners; these will make any pan nonstick and easy to clean. Look for silicone muffin molds, cake molds, bread molds and tart molds; they come with regular and fantastic shapes and designs for baking fun.

Ceramic bakeware

Ceramic bakeware is made from kiln-fired clay and then glazed with a porcelain-like coating that makes cleaning a snap. Ceramic bakeware is beautiful and comes in lots of bright and muted colors. Many ceramic bakeware pieces are painted with country designs of roosters or sunflowers. When you're making a casserole that warms the home and body, reaching for ceramic bakeware won't steer you wrong.

Metal bakeware

Metal will always be popular as bakeware. It gives the perfect brown on the bottom of cakes, pies and breads. If you are unsure of your baking ability or if you're looking for a gift for someone, metal bakeware will always be a good choice. Remember that most recipes are made using cooking times and temperatures for metal bakeware. Stainless steel and coated nonstick bakeware will be your best bet, since both types of metal bakeware are designed to resist rusting.

Specialty bakeware

Specialty bakeware includes your fancy bakeware pans, such as angel food cake pans, bread pans and pizza stones. These pans are made especially for these types of foods. Although you can bake angel food cake in bread loaf pans and cake pans, your cake will be lighter and better when you bake it in an angel food cake pan. Angel food cake pans are designed to allow the cake to rest upside down. If you love to bake pizza, homemade or store-bought, a pizza stone will give the crust the perfect color. Another benefit of a pizza stone is that you can cut your pizza right on this bakeware without worrying about damaging it.
Tip from Overstock.com
Buy more than one of each bakeware piece. If you're learning to cook, having more than one piece lets you experiment without fear of commitment, and if you're an experienced baker, having more than one piece lets you whip up a double batch in no time. For example, pie crust recipes often make enough for a bottom crust and a top crust, but not all pies need both; use the second shell in your second pie pan to make another delicious pie. Similarly, cookie dough recipes make more cookies than can fit on one cookie sheet; fill the second sheet with cookie dough drops while the first sheet bakes, and when the first one comes out to cool, the second can go in to bake.