Backpack Buying Guide
by Staff Writer
Published April 29, 2010 | Updated November 21, 2014
Whether used as carry-on bags for travel, as book bags for school, or as everyday tote bags, backpacks are essential. In an ever-widening array of styles and sizes, backpacks are available to suit every style and functional need. This backpack buying guide will help you sort through the many alternatives available to you when choosing a new backpack.
Backpacks for Every Use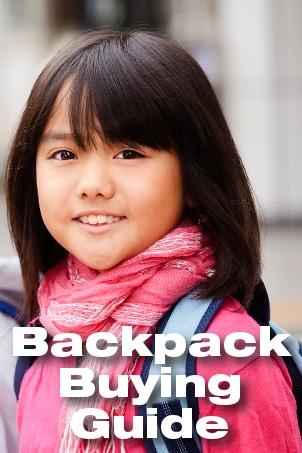 Shop Rolling Backpacks ▸
Go back to school with traditional backpacks

For textbooks and school supplies, regular backpacks are always the classic choice.
Traditional Backpack Features
Compartments and pockets: Separate compartments and sturdy design will ensure that your heavy textbooks won't crush your lunch, and they can keep your calculator and MP3 player from being scratched or broken.
Strap design: You may also consider backpacks that have S-shaped straps. The ergonomic design is meant to redistribute the weight of the backpack evenly to reduce strain on your back. Padded straps won't dig into your shoulders, either.
Rip-stop fabric: With all those books in your backpack, you might be worried about the straps tearing. Rip-stop fabric helps make stress points on your back pack more tear-resistant. Made from weaving strong nylon fibers into the base material of your backpack, rip-stop fabric will help prevent tears.
Get work done with laptop bags

Laptop bags are designed specifically to protect your computer and its peripherals as well as any other work-related equipment and supplies. Laptop backpacks are designed with different sizes in mind, so check to be sure your laptop will fit before buying. Laptop bags often have compartments to hold notebooks and pockets for writing utensils in addition to the main computer pouch, so you'll have all the tools and supplies you need without worrying about scratching your computer.

Stay fit with gym bags

Gym bags are great for carrying around your fitness apparel and equipment, from sneakers to weights. Made of breathable, lightweight fabrics, gym bags are made to hold your gear while resisting odors at the gym. Exterior compartments keep your cell phone and other accessories from mingling with your exercise clothes.

Look stylish with fashion backpacks

If you want a stylish accessory but aren't interested in a handbag, look for backpacks made with prints and fabrics tailored to match all the latest fashions. Chic flap-over bags recall the look of a fine purse or shoulder bag. Leather backpacks, in a variety of colors and weathered looks, are a fashionably rugged option that goes well with any outfit. One-shoulder canvas backpacks manage to look stylish while remaining quite functional.

Ease the strain with wheeled backpacks

While the classic model with two shoulder straps remains popular, rolling backpacks are now available to ease the strain on your back and shoulders.
Where to Use Rolling Backpacks
At school: Two or three textbooks can quickly add up to a heavy backpack. Wheeled backpacks are a great option for students and academic professionals who have to carry around increasingly heavier textbooks and equipment.
For travel: If you travel often, consider a wheeled backpack as the perfect carry-on bag. Retractable handles and wheel protectors ensure that your rolling backpack can easily move from the floor to your shoulder. Rolling backpacks are also easy to store under your seat.